Scottish drug deaths in 2017 reached record high
3 July 2018, 12:05 | Updated: 3 July 2018, 12:07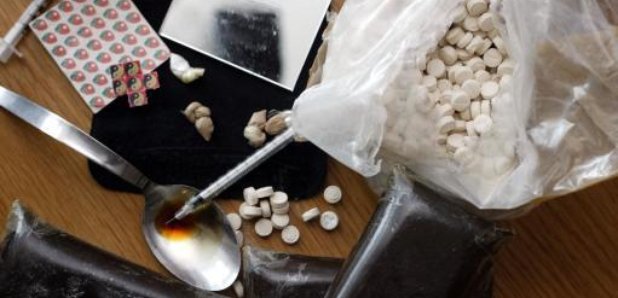 Drug deaths in Scotland are at their worst level since records began, new figures show.
There were 934 drug-related deaths registered in 2017, 66 more than the previous year, an increase of 8%.
This is the highest level since current records began in 1996 and more than double the 2007 figure of 455.
The National Records of Scotland statistics indicate Scotland's drug death rate is roughly two and half times the UK rate.
Public health minister Joe FitzPatrick said each death is a tragedy and the Scottish Government is developing a refreshed drugs strategy having recognised a shortfall in support services.
NHS Greater Glasgow and Clyde was the health board with the most drug-related deaths at 280 (30%), followed by NHS Lothian with 137 (15%) and NHS Lanarkshire at 102 (11%).
Heroin or morphine were implicated in, or potentially contributed to, 470 deaths, followed by methandone for 439 people, diazepam for 205, etizolam for 299, cocaine in 176 and ecstasy-like substances in 27.
New psychoactive substances, formerly known as legal highs, were implicated in 337 deaths, five of which are believed to have been caused by these substances alone and two of which are additional to the total of 934.
More than one drug is implicated for many deaths.
The majority (70%) of the drug-related deaths were men and people aged 35-44 accounted for the most deaths at 360, followed by those aged 45-54 at 268.
A total of 36 people aged 15-24 died drug-related deaths in 2017.
Mr FitzPatrick said: "Each of these untimely deaths is a tragedy and I offer my deepest condolences to the families and friends who have lost loved ones over the last year.
"We will continue to do all we can to prevent others from experiencing similar heartbreak and we are developing a refreshed substance use strategy.
"This is in direct response to the changing drugs landscape, the continued rise in drug-related deaths and the recognition that current services do not meet the needs of all the people who need support.
"The new strategy will take a person-centred approach so that treatment and support services address people's wider health and social needs, such as mental health, employability and homelessness."