Scots Surfer Back On Board For First Time Since Rescue
13 November 2017, 10:04 | Updated: 13 November 2017, 10:07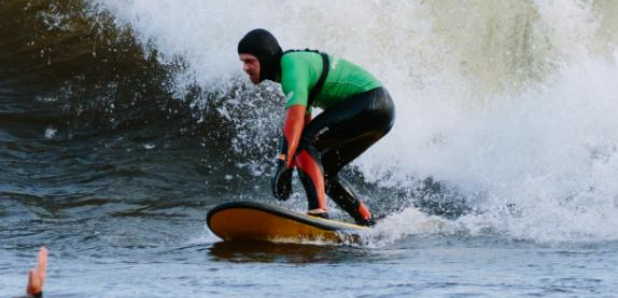 Matthew Bryce from Airdrie has been back on his surf board for first time since his dramatic sea rescue in May.
24-year old surfer Matthew Bryce made headlines around the world when he was rescued after spending 32 hours adrift at sea.
He was found clinging to his board 13 miles from the coast of Northern Ireland after going surfing at Westport Beach in Kintyre, Scotland. Strong winds and tides had pulled him 16 miles away from his start point on the Scottish coast.
His dramatic rescue, by Coastguard helicopter, took place just as the sun was setting on his second day at sea. Matthew said he did not think he would survive. Following his rescue, he spent eight days in hospital recovering from the effects of hypothermia.
Matthew initially said his experience had been too traumatic to contemplate surfing again, but following an invitation from Surf Snowdonia, and inland surf lagoon in North Wales, Matthew has returned to the waves for the first time in the company of some of his closest surfer friends.
Matthew said: "I was pretty much resigned to the fact that was not going to be surfing again. But Surf Snowdonia got in touch and said come down here, we can get you back in the water. It's somewhere safe, it's not in the sea. It was a really nice gesture.
"I can't just stop, I enjoy surfing too much. This has been a great stepping stone to actually going back out in the sea."
Surf Snowdonia is a world-first piece of engineering and the UK's only inland surf break. The 300-metre lagoon, which sits in the lee of the Snowdonia mountains in North Wales, generates man-made surfable waves every 90 seconds.
Surf Snowdonia's highly supervised and controlled environment presents surfers with far fewer dangers than they might encounter in the sea. The £15 million facility is an ideal training arena for surfers who are less confident about navigating tides, rocks and other ocean hazards.