Scots Arriving Home On "Chaos" Of Sharm
7 November 2015, 07:07 | Updated: 30 March 2016, 13:50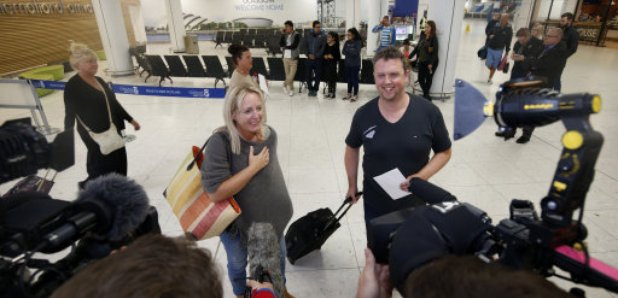 Scots holidaymakers stranded in Egypt have described their relief at escaping the ''chaos'' of Sharm el-Sheikh airport.
Around 200 Scots were among thousands of UK tourists stuck in the Egyptian resort after flights were suspended over a reported terrorist plot.
Airlines resumed reduced services from the area on Friday - amid tightened security and a ban on carrying hold luggage - to bring Britons back to the UK.
A Thomson Airways flight touched down at Glasgow Airport at around midnight, with many passengers happy to be home.
Brian Shaw was one of the first to leave the terminal and said: ''Nobody knew what they were doing, the security was traumatic.
''We didn't even know what was going on today until we were on the plane. The flight was supposed to leave at 5.30pm and we never left until 8pm and that was us just sitting waiting.''
Fellow passenger Angela Downs, 44, said: ''We left our hotel and waited in the airport for hours the other day to then be taken to a different hotel so we're just happy to get back.
''To be fair, we got out and people on a Monarch flight were in the departures lounge and got turned back.
''The resorts feel fine, but the airport is chaos.''
The UK government and airlines had planned to put on more flights on Friday but restrictions were put in place by Egyptian authorities, meaning 21 scheduled flights were cancelled, with some planes forced to turn around in mid-air.
Customers were not able to take any hold luggage with them on any of the flights. It will be brought back to the UK separately for security purposes.
Husband and wife Malcolm and Carol Foster said the arrival of the Thomson pilots and cabin crew at the airport on Friday was cheered like a Scottish football crowd.
Mrs Foster said: ''When the Thomson crew for the Glasgow flight walked through there was an almighty cheer. It was like someone was here to rescue us.''
Mr Foster added: ''It was like the Hampden roar going up as they walked through, people were delighted just to get a plane.''
The couple said they were shocked by the security at the airport and felt they were being rushed through to get people on the small number of planes.
Mr Foster said: ''They put men and women into different security crews, I ended up with my wife's passport - I gave her mine by mistake - but we were still waved through. They weren't bothered.
''It's chaos at the airport. They're bringing bus loads of people in and they're just crowding round and round and then they say, 'That flight's cancelled, away back to your hotel'.''
But other passengers arriving at Glasgow said they had a ''great time'' and that anyone who has booked to travel to Egypt would have a ''fantastic trip''.
The first of eight flights carrying British holidaymakers from Sharm el-Sheikh arrived at Gatwick Airport earlier on Friday.
A spokeswoman for Thomson Airways said it hoped to put on more services over the weekend to bring people back to the UK.
She said: ``We continue to work with the UK government to try and finalise our flying programme for the weekend and we will update accordingly when further information becomes available.
''These flights will operate under special security measures mandated by the UK government. Customers will not be able to bring any hold luggage with them on these flights.
''We would like to apologise to our customers for the inconvenience caused and would like to thank them for their continued patience.''
The Government suspended air links on Wednesday after a Russian plane crashed last weekend, killing 224 people.
It has been reported that British spies uncovered an Islamic State (IS) bomb plot in the region following the tragedy.
Prime Minister David Cameron said it was ''more likely than not'' the Russian aircraft was brought down in a terrorist attack.