Scotland's Top Cop To Stand Down
27 August 2015, 13:35 | Updated: 30 March 2016, 13:50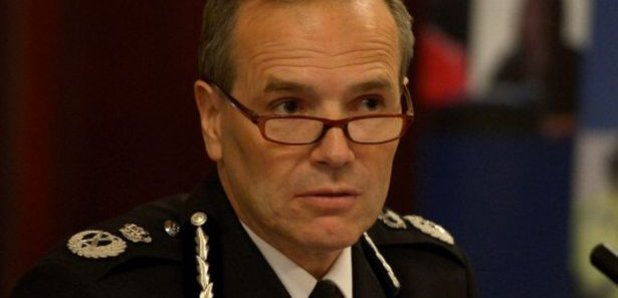 Sir Stephen House is to stand down as chief constable of Police Scotland earlier than planned.
The police chief is expected to make the announcement to a meeting of the Scottish Police Authority.
It is understood Sir Stephen, who had previously indicated that he would not seek another police job when his contract ends in 2016, plans to leave his post in three months' time.
The national force has been hit by various controversies in recent months.
It came under fire following the M9 collision in July in which Lamara Bell, 25, and John Yuill, 28, died. The couple spent three days in their crashed car after a call to police was not properly logged, prompting Sir Stephen to issue an apology to the families.
The force has also faced criticism over issues such as its stop-and-search tactics, armed police and the death of 31-year-old Sheku Bayoh in custody.
Brian Docherty, chairman of the Scottish Police Federation, which represents rank-and-file officers, said: ''Sir Stephen has made a monumental contribution to policing. He has delivered the most significant public-sector restructuring in a generation against a background of a brutal austerity agenda.
''He has delivered some very impressive policing results on crimes of violence, particularly domestic violence.
''I have little doubt that history will prove to be kinder to Sir Stephen than the current commentary, which at times has been vindictive and deeply personal.
''Many people feared that a single police service could be susceptible to political interference and those who have called for the head of the chief constable as some form of trophy need to consider that.''
Scottish Liberal Democrat leader Willie Rennie, who has been a fierce critic of the single force, said: ``Decapitating the chief constable won't solve the deep-rooted problems in Police Scotland.
''A new chief carrying on as if nothing is wrong will cement the problems rather than solve them.
''The early resignation of chief constable Stephen House reveals the chaos at the heart of Police Scotland.
''Yet, this isn't about the job of one man at the top but recovering the fortunes of the wider police force which is in the doldrums.
''Ultimately the SNP government must accept responsibility for this chaos. They rammed through the centralisation of our police service despite warnings. They set up the toothless Scottish Police Authority. They appointed the chief constable.
''With the departure of the chief constable, there is an urgent need for a wider inquiry into the operation of Police Scotland. Rank-and-file police officers and civilian staff are crying out for a fresh start.''
Scottish Conservative leader Ruth Davidson said: ``With this resignation, Sir Stephen is clearly bowing to the inevitable.
''His leadership has been a source of controversy from the outset and Police Scotland needs a fresh start.
''It's essential that his replacement is up to the task of tackling the problems that have afflicted the single force since its inception.
''But let us not forget that the buck stops with the Scottish Government and the Scottish Police Authority on Police Scotland's failings.
''The fledgling force needs effective oversight at the very top if it is going to recover its reputation and regain the public's trust.''
The SPA said Sir Stephen has informed them of his intention to step down from his position at the beginning of December.
SPA chair Vic Emery said: ''I want to pay tribute to Sir Stephen House. I firmly believe he has been the right individual at the right time to lead Police Scotland through the combined challenges of major reorganisation, fundamental reform, and reduced funding.
''Sometimes the public don't always see the real person behind the public profile. Steve has always been a constable first, and a chief officer second. He has continued to see policing as a lifelong personal vocation, not simply a career ladder to climb. I believe that will be a view of him shared by many thousands of officers and staff across Police Scotland.
''As Chief Constable of both Strathclyde Police and Police Scotland he has served the people of Scotland with distinction for over a decade. Many aspects of policing in Scotland are stronger now than they were a decade ago. He can take great pride for the significant personal contribution he has made to that.
''While this part of his vocation is coming to an end, the shift is not yet over. He has been a hands-on, working Chief Constable every day I have known him, and I have every confidence that he will be just that for his remaining period at the helm of Police Scotland.
''It now falls to the SPA to put suitable arrangements in place to begin the process of identifying and appointing a permanent successor. We will start to put that process together in the coming days. Rightly, and once appointed, that will be a process that my own successor as chair will have a key role in shaping and completing.''
Sir Stephen is expected to step down from his post on December 1.
First Minister Nicola Sturgeon thanked him for his ''years of dedicated service'' with both Strathclyde Police and Police Scotland.
She said: ''Strong policing has ensured recorded crime is at a 40-year low.
''Sir Stephen provided leadership at a crucial time and his strong focus on tackling violent crime made a major contribution to that achievement.
''I also recognise his powerful and long-standing focus on tackling domestic violence and sexual crime.
''At a time when we are celebrating a century of women in policing, his track record in encouraging and supporting women in the service should also be recognised.
''The policing of major events when Scotland was in the international spotlight such as last year's Commonwealth Games and the Ryder Cup was also exemplary.
''Reform of policing in Scotland was absolutely vital to sustain the policing upon which Scotland's communities depend and Sir Stephen's contribution to that was invaluable.''