Scot Wins Australian Open Title
30 January 2016, 11:23 | Updated: 30 March 2016, 13:50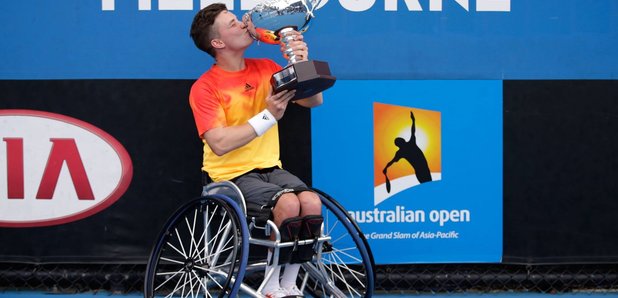 Gordon Reid is celebrating after winning the wheelchair final of the Australian Open and securing his first grand slam singles title.
The 24-year-old from Alexandria, West Dunbartonshire, edged out Belgium's Joachim Gerard as he played the first grand slam singles final of his tennis career.
His hopes of making it two victories in a row were dashed when he and Japanese partner Shingo Kunieda lost the doubles final to French pair Stephane Houdet and Nicolas Peifer.
After completing his singles victory in an hour and 37 minutes, Reid flung his racket into the sky before punching the air in celebration.
He enjoyed the support of a vocal group of school friends, but one in particular - Gary Peak - carried special significance.
''Gary's literally been there the whole journey so it's amazing to have him here cheering me on,'' Reid said.
''He was there the day what happened happened.
"It was the Friday night. I stood up off my bed and my legs just gave way.
''The next day I woke up and was fine but then over the day I lost all feeling from the waist down and I had really bad pains.
''Gary was the one sitting with me all day as it happened, keeping me company.
"He was there until the ambulance took me away to the hospital.
''I didn't even really think about that but it's pretty special to have him here. I gave him a big hug afterwards.''
Reid contracted Transverse Myelitis - a disease affecting the spinal chord - aged 13 and wondered if he would ever be able to pick up a racket again.
''Winning a grand slam was never the goal when I started playing,'' he said.
''I just wanted to get back involved in sport and get active again. I never even dreamt ... to be honest, I didn't even know wheelchair tennis existed.
''But as time went on I realised I could be quite good at this.''
First Minister Nicola Sturgeon was among those to message Reid on Twitter on Saturday morning following his win.
She wrote: "Congratulations @GordonReid91 - Grand Slam champion! Fantastic achievement.''
Andy and Jamie Murray can make it a Scottish treble this weekend, with Jamie into the final of the men's doubles later on Saturday and Andy playing Novak Djokovic in the singles on Sunday.
''It's great to have their support,'' Reid said. ''I saw Andy and Jamie in the locker room just after my match and I got a big congratulations from them.''