School Bus Overturns In Lanarkshire
9 February 2017, 10:12 | Updated: 9 February 2017, 13:09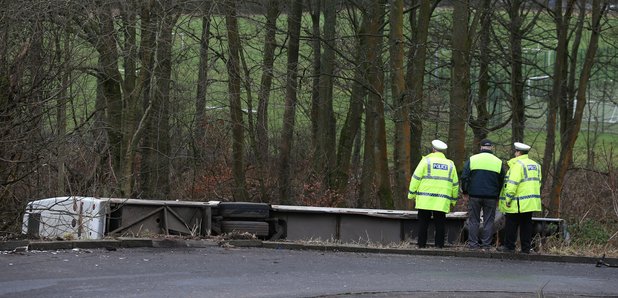 Five children taken to hospital after a bus carrying pupils overturned near a school.
Five pupils have been taken to hospital after a bus carrying more than 40 schoolchildren overturned and crashed down an embankment.
The incident happened at Dowanfield Road near Our Lady's High School in Cumbernauld, North Lanarkshire, at around 8.45am.
While no serious injuries have been reported, five people have been taken to nearby hospitals as a precaution.
Police Scotland said: "A 16-year-old girl has been taken by ambulance to Wishaw General Hospital for what is believed to be non-serious injuries at this time.
"Four other girls, aged 15, 13, 12 and 12 have been taken by ambulance to Monklands Hospital for observations.''
A spokesman for North Lanarkshire Council said: "A single-decker bus overturned just before 9am this morning close to Our Lady's HS, Cumbernauld.
"The bus was coming from the Abronhill area (Moss Road).
"The pupils are being attended to by school staff and emergency services in the assembly hall.
"All parents have been contacted.''
The white bus can be seen lying on its side down an embankment near a tight bend in the road, which has been closed.
Two fire engines and several police and emergency vehicles remain at the scene.
North Lanarkshire's education convener Frank McNally said: "I am pleased that there have been no serious injuries from this accident.
"Emergency services were very quick on the scene.
"North Lanarkshire takes very seriously the safety of our young people. Parents on a daily basis give us their most prized possession - their children.
"We will co-operate fully with the police and their inquiries going forward to ensure that this matter is fully investigated.''
He said it is too early to know what caused the crash.