'Rape Clause' Protest in Edinburgh
19 April 2018, 19:16 | Updated: 19 April 2018, 19:19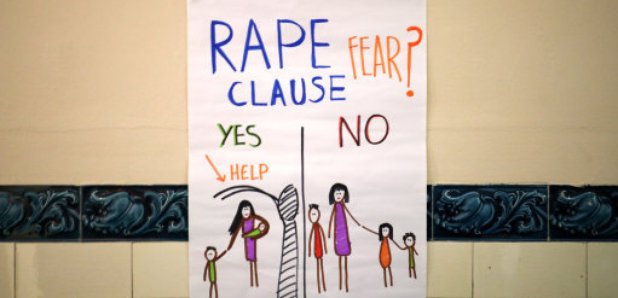 More than 100 protesters gathered in Edinburgh to demand the UK Government scrap the controversial welfare policy known as the 'rape clause'.
The demonstration in the capital was organised after UK Work and Pensions Secretary Esther McVey sparked outrage when she claimed the measure could provide women with "double support".
The measure was introduced last year as part of UK Government benefit reforms which limit families to claiming tax credits for their first two children.
One of the exemptions to this requires women to prove a child was conceived through rape or during an abusive relationship to qualify for the benefit.
Ms McVey argued that as well as allowing women to receive tax credits, it also gave rape victims an opportunity to talk they may have "never had before".
But SNP MP Alison Thewliss branded it an "appalling policy" which had been "snuck in" by the UK Government".
She held up a copy of the form women must fill in to qualify for benefits, telling protesters: "It says 'support for a child conceived without your consent'.
"Who do they think wants to fill in a form like that? You have to go through this form, you have to put your child's name on this form."
Ms Thewliss went on: "This is something the Scottish Government cannot change because it is tax credits, it is reserved, it belongs to the UK Government.
"It is Westminster who need to change it and they need to change it for every woman in the UK."
Former Scottish Labour leader Kezia Dugdale also spoke out against the policy, saying: "The only way we can get rid of this is to scrap the two-child cap."
She told protesters: "You all heard Esther McVey's utterly abhorrent comments earlier this week. The idea that women should have to declare that they've been raped to access the tax credits they were previously entitled to is just disgusting. It's not increased support - it's just plain wrong."
After Ms McVey appeared at Holyrood's Social Security Committee, a Department for Work and Pensions spokeswoman said: "We're ensuring women in these awful circumstances are supported in every way so they can receive the help that they need.
"We have always been clear that this policy will be delivered in the most effective, compassionate way, with the right exceptions and safeguards in place."