Rangers Through To Challenge Cup Semis
21 October 2015, 07:12 | Updated: 30 March 2016, 13:50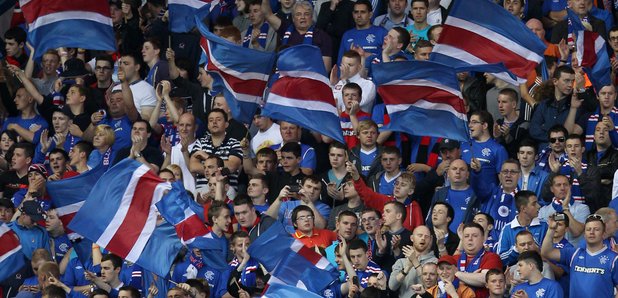 Rangers boss Mark Warburton called for more protection from referees after a fiery 1-0 cup win over Livingston.
Rangers needed Nicky Clark's long-range strike in the 75th minute to knock the holders out and set up a semi-final against St Mirren in an Ibrox clash that saw eight players booked by Andrew Dallas, five for the visitors.
But Warburton felt there should have been more, notably for a first-minute foul by Kieran Gibbons on Nathan Oduwa, who went off injured at half-time.
Warburton said: "The first tackle came in within 30 seconds and then four or five swiftly followed. He had to come off at half-time with bruising to the ankle and foot etc.
"I just think it's frustrating, to be polite. I saw Martyn Waghorn booked just before half-time and I have no idea what for, and then you see a number of tackles going unpunished.
"I never want to see players booked or red-carded but at times it's necessary.
"It's meant to be an entertainment industry and the tempo was very slow at times.
"Talented players need some protection. I'm not saying preferential treatment, but look after them. Some of the tackles were inappropriate.''
Livi boss Mark Burchill had no problem with his players' approach.
Burchill said: "Did any of my players get sent off? Well, I'm happy with that.
"It's a cup tie, two teams are trying to win, there's a referee in charge. He's the boss.
"It's a very, very difficult job being a referee. The first tackle from a Rangers player should have been a yellow card and he let that go, so then you have to let a few more go. It's a difficult job and I thought he handled it well.''
Warburton added: "We're pleased to get through. It was a frustrating evening for a variety of reasons but they were patient and we kept moving the ball and we got the rewards.
"They are not going to come and do what we want them to do and we have to show some guile and cleverness in the final third and break them down.
"We didn't quite do that for the first hour but it was a good strike from Nicky Clark.''