Queen's Park considering SFA offer to buy Hampden
22 February 2018, 16:19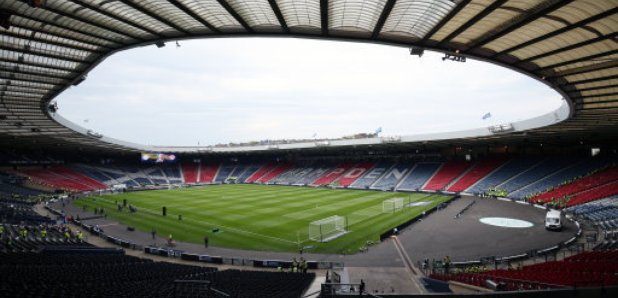 Queen's Park say they will consult with their members before deciding whether to accept the Scottish Football Association's offer to buy Hampden.
The National Stadium is owned by the League One minnows but rented to the SFA as part of an £800,000-a-year rental agreement.
But that lease agreement is due to expire in 2020 and the governing body is now exploring the possibility of moving Scotland internationals and major cup finals to BT Murrayfield.
However, it has also now emerged that the SFA has raised the possibility of purchasing the stadium - first opened in 1903 - with Spiders chiefs.
According to the Daily Record, a deal costing just £2million could be struck, with the SFA also promising to upgrade facilities at the nearby Lesser Hampden, which would then become the permanent home for Queen's Park, as part of the bargain.
The club's directors have already briefed supporters on the offer following a members meeting on Wednesday night, but now say they will hold further talks before making a final decision.
A Queen's Park spokesperson said: "We have a long and proud history in Scottish football and that includes being the owners of the first, second and third Hampden Parks. No-one can take that away from us.
"Scottish football has changed since we were formed in 1867 and from when we moved into the existing Hampden in 1903, so perhaps this is the time to look at a new ownership model for the national stadium.
"The request from the SFA was presented to members last night. Their responses will help inform how the club moves forward."
The SFA have already ruled out basing the national team at Celtic Park and Ibrox.
And the body says a final decision on Hampden's future will not be rushed.
A spokesperson said: "The Scottish FA Board met last month to review the opportunities available beyond the term of the existing lease for the use of Hampden Park, which expires in 2020. It was decided to progress two options: remaining at Hampden Park and moving to BT Murrayfield.
"We are now working with all key stakeholders to consider the strategic, financial, operational and supporter-related aspects of each option with a view to making a decision later this year."