Queen marks two decades of devolution
29 June 2019, 12:32 | Updated: 29 June 2019, 12:35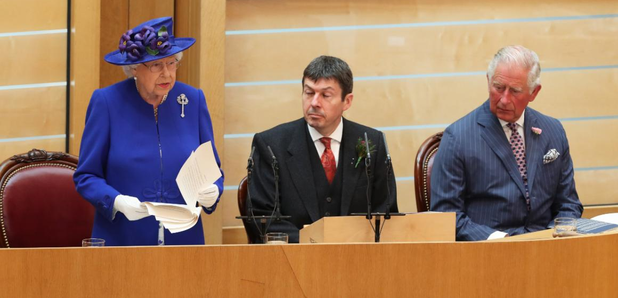 The Queen addressed the Scottish Parliament today as part of its 20th anniversary celebrations.
Earlier, a procession of the Crown of Scotland took place in Edinburgh's Old Town to mark the 20th anniversary celebration of the Scottish Parliament.
The Duke of Hamilton and Brandon received the Crown at Edinburgh Castle and proceed down the Royal Mile towards the Scottish Parliament, accompanied by Pipes and Drums of 1st Battalion of the Scots Guards.
The Crown, part of the Honours of Scotland or the Scottish Regalia, was then carried into the Scottish Parliament, escorted by the Lord Lyon King of Arms, Officers of Arms and the Royal Company of Archers.
The Queen and Charles were greeted outside the parliament building by Presiding Officer Ken Macintosh.
The royal party then met representatives of the parties at Holyrood - First Minister Nicola Sturgeon, Scottish Conservative leader Ruth Davidson, Scottish Labour's Richard Leonard, the Scottish Greens' Alison Johnstone and Liberal Democrat MSP Tavish Scott.

The Queen is wearing a blue coat and hat and a white floral dress for the occasion.
She and Charles entered the chamber to a fanfare composed and conducted by John Wallace and performed by the Royal Conservatoire of Scotland brass ensemble.
In some opening remarks, the Presiding Officer said today's events represent a chance to reflect and look at the challenges ahead.
Mr Macintosh listed some of the parliament's achievements, including: "The smoking ban and the minimum pricing of alcohol, free personal care and the abolition of tuition fees, the removal of Section 28 and the introduction of equal marriage.
"I am proud of that legislative record, but just as important is that the parliament itself has evolved to reflect the needs of the people we serve."

Addressing the chamber, the Queen said: "Presiding Officer, First Minister, Members of the Scottish Parliament, the Duke of Rothesay and I are pleased to join you today in marking the 20th anniversary of the Scottish Parliament.
"We fondly remember that proud day when new members gathered in the Assembly Hall to celebrate Scotland's first parliament in 300 years.
"I have noted on previous occasions my great affection for Scotland, and the many happy and personal connections I enjoy with this wonderful country.
"It has been with great pleasure that over the years I have watched Scotland grow and prosper, and have been with you at each stage of your parliamentary life, including on landmark occasions such as today.
"Twenty years on, this chamber continues to be at the centre of Scottish public life, as an important forum to engage and unite diverse communities and also a home for passionate debate and discussion.
"Through new initiatives you continue to strive to be responsive and accountable to the people you serve, and to engage and involve those who might not otherwise participate in political debate."

The Queen continued: "It is perhaps worth reflecting that at the heart of the word 'parliament' lies its original meaning: a place to talk. I have no doubt that for most of these last 20 years this striking chamber has provided exactly that, a place to talk.
"But of course it must also be a place to listen - a place to hear views that inevitably may differ quite considerably, one from another - and a place to honour those views.
"In turn, this occasion today gives us all an opportunity to honour those who help turn talk into action, not just Members of the Scottish Parliament but all those behind the scenes - the many unseen, unsung individuals who are not afforded recognition by the nature of their role in Parliament, but who nonetheless join together to support parliamentary work in the service of others, and the success of the nation as a whole.
"Presiding Officer, as we look to the future, it is my sincere hope that this Parliament, and all those who come to serve in it, will use the power of this chamber to celebrate those invisible pillars of our communities, and follow their example by working tirelessly to improve people's lives, and strengthen the bonds of friendship and partnership both at home and abroad.
"Today, with the echo of excitement and enthusiasm I encountered twenty years ago, I extend to you all my warmest good wishes on this special anniversary, for the continuing prosperity of the people of Scotland, and for those who represent them in this remarkable Parliament."
Her words were followed by a performance of The Bonnie Banks O' Loch Lomon', performed by The National Youth Choir of Scotland Chamber Choir.

Nicola Sturgeon recalled the "optimism" for the Scottish Parliament when it was created, but also spoke about the "scale of the challenge" MSPs faced then.
In her speech, she said: "There were times perhaps, especially in the first few years of the parliament, when the sense of challenge possibly outweighed the sense of optimism."
But she said the hopes expressed for Holyrood in 1999 had "to a great extent been vindicated".
Ms Sturgeon added: "Although this parliament is only 20 years young, it has long come of age."

She said while the parties in Holyrood "passionately disagree" on many issues, they had worked together over the years.
The First Minister said: "The 290 Acts this Parliament has passed have varied in their impact. But from land reform in the first parliament to equal marriage in the last to the Social Security Act in this, they have all made Scotland a better place.
"As a result this parliament is firmly established as the centre of this nation's public life. We have become the democratic institution which people look to, to reflect their priorities, values, hopes and dreams.
"And we are now looking forward to a new decade in which this parliament will build new institutions and I am sure see further change and development."

Ms Sturgeon said that while in the current climate "politics can seem more divisive and confrontational than ever", the parties at Holyrood wold "maintain our commitment to working together".
She added: "In doing so we will be reminded that however much we disagree, we are all united by our desire to do our best for the people we serve."
The SNP leader said Holyrood had made mistakes over its first two decades, but stressed it had also delivered "significant progress".
"We can take heart as we look back from the achievements of the last two decades," she said, adding that if MSPs "stay true" to the words engraved on Holyrood's mace - wisdom, integrity, justice and compassion - they would "continue to make progress towards an even wealthier, fairer, better Scotland, for all who live here, no matter where in the world they come from".

While both Ms Sturgeon and Holyrood's Presiding Officer Ken Macintosh were elected as MSPs in 1999, and were present at Holyrood's opening, Scottish Conservative leader Ruth Davidson recalled she had been in the Student Union of Edinburgh University at the time, watching the ceremony on television.
"I didn't know then what a Scottish parliament would look or sound like," she said.
"How it would change the political landscape and grow to dominate our country's public life.
"But there was a sense that for our generation the equation had changed, that evolution offered new possibilities, not just for Scotland but all our family of nations."
Two decades on she said Holyrood "has become a fixture of political and civil life, an institution that is knitted into the fabric of our society".

Ms Davidson said there was "consensus that as a process devolution has made our country stronger".
The Tory continued: "As with any 20-year-old there remains lesson to learn, but as Holyrood enters its third decade it is without question a stronger and more substantial institution than that which first emerged in 1999.
"This is a parliament for all of Scotland, accessible to everyone and richer for their contribution."

Scottish Labour leader Richard Leonard said he was proud to be the leader of the party which, in government, delivered devolution.
He told how his thoughts today were with Scotland's inaugural first minister, Donald Dewar, who said at the opening of the parliament two decades ago: "Today there is a new voice in the land."
Mr Leonard said there was, however, "much unfinished business" still to do.
He said: "We began to reform the ownership of our land... but too much power still lies in too few hands.
"We have legislated for equality, but too much inequality still persists - inequalities of race and religion, of sex, gender and sexuality, of disability, of age, and of class."

The 1999 Scottish Parliament election saw the voting-in of the UK's first Green parliamentarian, MSP Robin Harper.
Scottish Green Party co-convener Patrick Harvie said that election had helped "pave the way for the growth of the Green parties throughout these islands".
He also recalled how the Scottish Parliament had helped improve rights for LGBT people.
The first parliament repealed Section 28, which had banned the promotion of homosexuality in schools.
"We saw parliament take on an issue which was harming us, face down prejudice and assert our equal place in Scottish society," he said.
"Since that time a marginalised community has grown in confidence, thanks to a parliament which to this day has never once voted against our equality and human rights."

Mr Harvie continued: "We're now living in a time of political turmoil, uncertainty, in the midst of a climate emergency, and an ecological crisis.
"As we look ahead we must again grow into the role that is needed of a modern parliament."

The Liberal Democrats' Tavish Scott, who this week announced he will resign as Shetland MSP in July after 20 years, said it had been an honour and privilege to serve at Holyrood.
He said: "Scotland is an immeasurably stronger place today. Let this parliament flourish and those who serve next enjoy the spirit of discussion, the argument and yes, the downright row.
"It's been my honour to serve the people of Shetland and to play a part in the evolution of Scotland's democracy."
The speeches were followed by Robert Burns' Ae Fond Kiss, sung by Capercaillie lead singer Karen Matheson.
A rendition of A Man's A Man For A' That by Robert Burns marked the Queen's departure.