Queen Gets Gifts For Grandkids In Dundee
7 July 2016, 07:56 | Updated: 7 July 2016, 07:58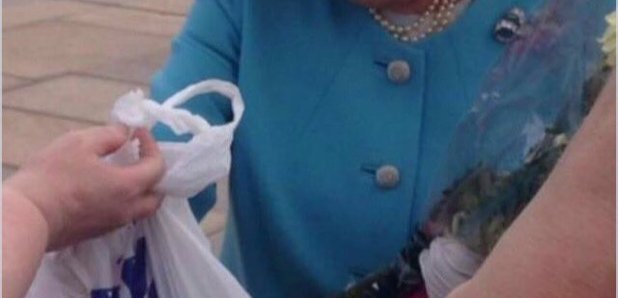 The Queen is used to receiving flowers and mementos on visits around the country but was given a surprising gift in Dundee - a plastic B&M bag with toys for her great-grandchildren.
She smiled as she took the bag from a well-wisher after opening Slessor Gardens next to the new V&A Museum in the city and it proved a hit on social media.
Pictures showed the Queen looking inside the white plastic bag which was said to contain toys from the discount store for her great grandchildren George and Charlotte.
Erin Simpson wrote on Twitter: "When someone in Dundee hands the queen a B&M bag full of toys for George & Charlotte hahaha.''
While another user, Nicole Lockhart said: "No way did someone in Dundee hand the queen a B&M bag full of toys in Dundee today.''