Police Officer Stabbed At Edinburgh College
6 November 2017, 16:14 | Updated: 6 November 2017, 16:19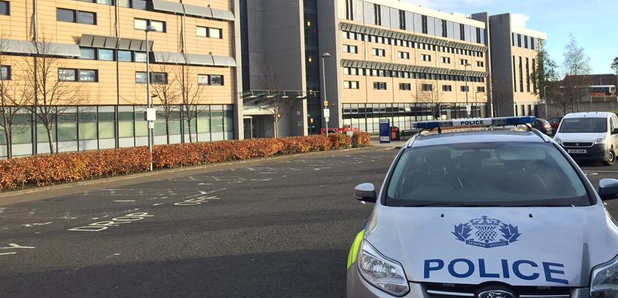 A police officer has been stabbed in an incident at a college campus.
The man was stabbed in the back after being called to Edinburgh College in the Granton area of the city on Monday morning.
The officer, a constable with Police Scotland, was taken by ambulance to Edinburgh Royal Infirmary for treatment to a minor, non-life-threatening injury.
The incident happened at around 9.30am after police responded to reports of an individual allegedly threatening to harm himself and others.
A man has been detained in connection with the incident, which is being treated as isolated.
The Scottish Police Federation (SPF), which represents rank-and-file officers, wished the injured Pc well as it raised questions about officers being properly equipped to deal with such incidents.
SPF chair Andrea MacDonald said: "I would like to commend the bravery of all of the police officers who attended this incident - undoubtedly their actions in protecting the public prevented further injuries or even fatalities.
"However - whilst all details are still to emerge - once again it appears that we have Scottish police officers not suitably equipped to deal with an incident where an individual is armed.
"Our thoughts are with the police officer who was injured and his family and colleagues at this time."
Police Scotland have been contacted for a response to the SPF's comments.
At late morning, two police cars could be seen outside the main entrance of the further education college, while six police vehicles were at the back of the building.
Police Scotland confirmed the officer has been assessed as having a minor injury.
A force spokeswoman said: "Police in Edinburgh were called to an address in West Granton Road around 9.10am on Monday following a report of concern for a man who was allegedly threatening to harm himself and others.
"An officer in attendance sustained a non-life-threatening injury to his back and has been taken by the Scottish Ambulance Service to Edinburgh Royal Infirmary.
"A man is detained in connection with this incident, which is currently being treated as isolated."
A spokeswoman for the Scottish Ambulance Service said: "We received a call at 9.31am today to attend an incident at Edinburgh College's Granton campus.
"We dispatched one paramedic response unit and one ambulance to the scene.
"One patient was taken to Edinburgh Royal Infirmary."
Edinburgh College said it is assisting police with their inquiries.
In a statement posted on Twitter, it said: "The safety of our students and staff is our most important consideration and we have worked with officers to ensure they are safe and well.
"Students and staff are helping officers with their inquiries. And we have support in place for anyone as needed."
The college remained open on Monday in line with guidance from police.
Deputy Chief Constable Iain Livingstone said: "Police Scotland always takes the welfare of its officers very seriously.
"We continually keep officer safety under review and regular liaison takes place with staff associations around this issue.
"As always, we will investigate this incident to see if there is anything to be learned from it.
"The officer's injuries are thankfully not life-threatening and I intend to visit him tomorrow."