PM Call For Military Action In Syria
2 December 2015, 13:11 | Updated: 30 March 2016, 13:50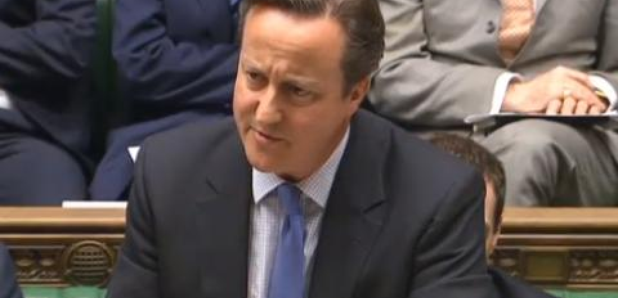 David Cameron set out his case for military action against the "medieval monsters'' of Islamic State as MPs prepared to vote on authorising RAF air strikes against the group in Syria.
The Prime Minister said the Commons faced a choice between backing action against the group in its Syrian stronghold or sitting back and waiting for a terrorist attack on Britain's streets.
But Labour leader Jeremy Corbyn, who is opposed to extending the bombing campaign from Iraq into Syria, warned against an "ill-thought-out rush to war''.
Mr Cameron said the Joint Intelligence Committee (JIC) and MI5 both assessed that the UK was among IS's "top tier'' targets, while the attacks last month on Paris underlined the extent of terrorist planning in Syria.
"It was, if you like, the head of the snake in Raqqa in action,'' he said.
"The House should be under no illusion that these terrorists are plotting to kill us and to radicalise our children right now.''
The Prime Minister also defended his controversial claim that there were 70,000 moderate opposition fighters in Syria, saying it was the estimate of the JIC - the UK's senior intelligence body.
He said the majority were members of the Free Syrian Army and that there were a further 20,000 Kurdish fighters with whom Britain could also work.
"I am not arguing that all of these 70,000 are somehow ideal partners. Some though left the Syrian Army because of Assad's brutality and they clearly can play a role in the future of Syria,'' he said.
Mr Corbyn disputed Mr Cameron's claim about ground troops, saying it was "quite clear there are no such forces'' and only extremists would take advantage of the strikes against IS.
Bombing missions are likely to begin within days if the House delivers what Mr Cameron hopes will be a comfortable majority after Mr Corbyn abandoned attempts to impose his anti-war stance on Labour and allowed his MPs a free vote.
Up to 50 Labour MPs are thought to be ready to vote with the Government - including shadow foreign secretary Hilary Benn - resulting in the highly unusual scenario of the two keynote Opposition speeches coming from opposite sides of the debate.
Mr Benn sat alongside Mr Corbyn as the party leader set out the case for opposing military action.
Democratic Unionists and the Liberal Democrats are also backing air strikes, their eight MPs each outweighing the voices of around a dozen Conservatives preparing to defy the party line to oppose action.
But critics of the policy - including the 54-strong Scottish National Party - have been emboldened by criticism of Mr Cameron's case from the influential Commons Foreign Affairs Committee and controversy over his claims of 70,000 moderate Syrian forces on the ground.
At least 110 MPs from six different parties have already signed up to an amendment seeking to block air strikes - spearheaded by Tory John Baron and the SNP's Westminster leader Angus Robertson.
Spelling out the choice facing MPs, Mr Cameron said: "We face a fundamental threat to our security. Isil have brutally murdered British hostages, they have inspired the worst terrorist attack against British people since 7/7 on the beaches of Tunisia, and they have plotted atrocity after atrocity on the streets here at home.
"Since November last year our security services have foiled no less than seven different plots against our people.
"So this threat is very real and the question is this: Do we work with our allies to degrade and destroy this threat and do we go after these terrorists in their heartlands from where they are plotting to kill British people, or do we sit back and wait for them to attack us?''
The Prime Minister called on MPs to "answer the call from our allies'' and take action.
"My strong view is that this House should make clear that we will take up our responsibilities rather than pass them off and put our own national security in the hands of others.''
As he delivered his speech, the Prime Minister faced repeated demands for an apology after urging Tory MPs not to side with "terrorist sympathisers'' in opposing air strikes.
Mr Corbyn said the remarks "demean the office of prime minister''.