Murray's Gold Seals Best Away Games For Scotland
15 August 2016, 08:30 | Updated: 15 August 2016, 08:34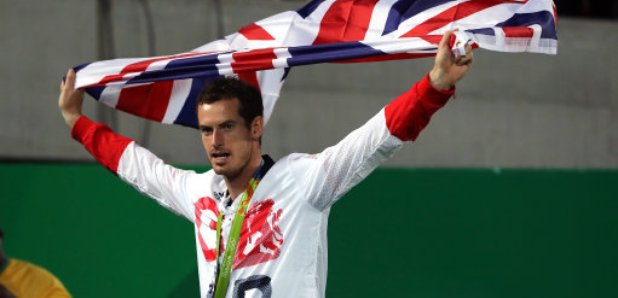 Andy Murray's history-making gold has boosted the record medals haul achieved by Scottish athletes at an overseas Olympics.
The 29-year-old beat Argentina's Juan Martin Del Potro in an epic four-set clash which saw him become the first tennis player to win back-to-back singles golds at the Olympics.
The 7-5 4-6 6-2 7-5 win, which came four years after his London 2012 win and just weeks after he secured his second Wimbledon title, helped lift Team GB to second place in the medals table at Rio.
And it means Scottish athletes on the team have now won 12 medals - a record for Scots at an Olympics outside the UK.
Scots won a total of 13 medals at London 2012 but the previous record at an "away Games'' was seven at Sydney 2000.
Following the match, Murray said it was "one of the hardest matches'' he has had to play for a major title.
He said: "Emotionally it was tough, physically it was hard with so many ups and downs in the match.
"The fact that it has never been done before shows it's a very difficult thing to do and I'm very proud to have been the first one to have done it."
Sportscotland performance director Mike Whittingham said: "What an epic men's single final here in Rio. Both Murray and del Potro gave it everything they had and it was a fantastic demonstration of the grit and determination required to win at this level.
"In taking the title, Andy Murray has just created another piece of history by becoming the first singles player to retain an Olympic tennis title. What an incredible 12 months Andy has had - claiming his second Wimbledon title, that fantastic Davis Cup win for Great Britain and now, a second consecutive gold at an Olympics.''
He added: "His win means that the Scots on Team GB have now taken a tremendous 12 medals, already the best ever away Games for Scottish athletes, and possibly more to come.''
First Minister Nicola Sturgeon said: "Massive congratulations to Andy Murray on winning Olympic gold. This is a fantastic achievement and, once again, Scotland and the whole UK is extremely proud.
"The Olympics is one of the highest-profile sporting events in the world, and to bring home a second consecutive gold medal, following a second Wimbledon title earlier this year is a tremendous accomplishment to celebrate.''
In other Scottish Olympic successes, cyclist Callum Skinner took silver on Sunday in the individual sprint behind teammate Jason Kenny, adding to the gold he took in the team event last week.
It comes after Katie Archibald helped Team GB take gold in the women's pursuit in the velodrome in a world record time on Saturday night, while swimmer Duncan Scott claimed his second relay silver and rowers Polly Swan and Karen Bennett took silver as part of the women's eight team.
Swimmers Scott, Stephen Milne and Dan Wallace were the first to claim a medal with silver in swimming's 4x200m freestyle relay, quickly followed by a bronze for Sally Conway in judo.
Silver has also been won by canoeist David Florence, rugby players Mark Bennett and Mark Robertson and rower Katherine Grainger - making her Britain's most decorated female Olympian.
Heather Stanning took gold in rowing's women's pairs with Helen Glover, adding to their London 2012 success.