More Than 1,000 Refugees In Scotland
1 September 2016, 12:24 | Updated: 1 September 2016, 12:33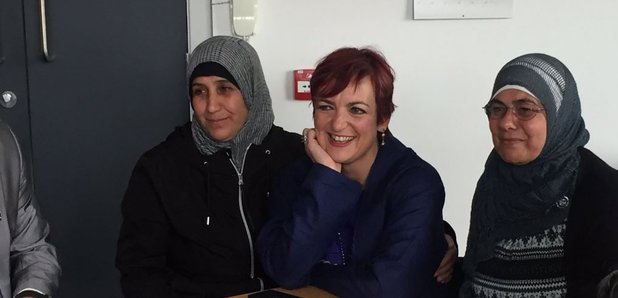 Scotland is now home to more than 1,000 Syrian refugees who arrived in the country as part of a UK-wide resettlement programme.
The men, women and children, who began being placed in communities in October, are living across 29 of the country's 32 local authority areas.
They represent about a third of those who have so far settled in the UK through the government programme offering sanctuary to those affected by the devastating civil war.
Scottish ministers hosted a summit in September to discuss the country's response to the humanitarian crisis and a taskforce was created to address practical matters including assistance with opening bank accounts, applying for residence permits and learning English.
The UK has pledged more than £2.3 billion to help those affected.
Equalities Secretary Angela Constance said she was proud Scotland had provided a safe place for more than 1,000 refugees after a further 120 were welcomed last week.
Speaking during a visit to The Welcoming, an Edinburgh project providing English language lessons to refugees, Ms Constance said: ''Over the last year we have been working closely with Cosla and local authorities to help refugees settle into safe new homes and readjust to life in different climates and communities.
''It's been fantastic to see people extend the warm hands of friendship to their new neighbours.
''However, integration is a long-term process and local authorities have been working in partnership with third sector and community organisations to ensure that the right support is in place.
''We will continue to work to overcome any barriers to education and opportunities to work, and will tackle health, housing and social security inequalities.
''We will do all we can to ensure refugees have happy and productive new lives in Scotland.''
David O'Neill, president of council body Cosla, said: ``Councils and communities have made incredible efforts to ensure a smooth welcome for our friends from Syria.
''We will continue to work with Scottish Government and communities to tackle any issues faced by refugees or concerns that they have and do all that we can to assist them in their new lives.''
In February, a London conference co-hosted by the UK, Germany, Kuwait, Norway and the United Nations raised more than 12 billion US dollars (£9 billion) in pledges - the largest amount raised in one day for a humanitarian crisis.
Key commitments include securing jobs and education for refugees and their children in host communities.
David Bradwell, of Scottish Faiths Action for Refugees, said: ''A thousand people is worth marking - and thanking all those who have helped make a difference.
''But it is still a tiny number compared with the people in desperate need.
''The response from local communities across Scotland has been phenomenal.
''Yesterday I was in Aberdeen hearing about how volunteers are working with Syrian families to support their settling into life, with everything from offering lifts and babysitting, to supporting kids with their school homework.''