Latest on NHS Scotland Cyber Attack
15 May 2017, 19:13 | Updated: 15 May 2017, 19:16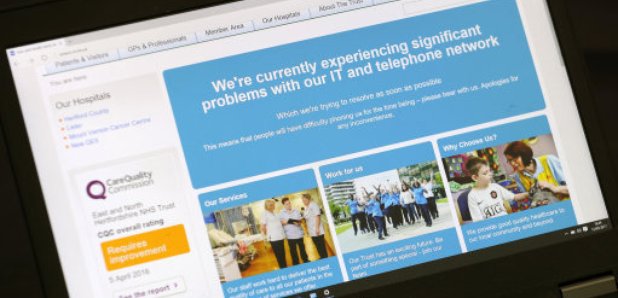 NHS computer systems are returning to normal after the ransomware cyber attack, health secretary Shona Robison has said.
There is no evidence that patient data has been compromised in the hack which affected around 1% of computers in the NHS in Scotland, the Scottish Government said.
Eleven health boards as well as NHS National Services and the Scottish Ambulance Service were affected in the unprecedented cyber attack which hit scores of countries on Friday.
It impacted on acute hospital sites in Lanarkshire, as well as GP surgeries, dental practices and other primary care centres around the country.
The Scottish Government's resilience operation met on Monday to discuss the situation and heard that health boards put extra teams in place to support staff returning to work after the weekend.
Ms Robison said: ``Systems are returning to normal today and I would like to thank NHS staff for their hard work over the weekend.
"It is important to emphasise that patient safety is paramount and there is no evidence that patient data has been compromised.
"However, Friday's attack has highlighted the need for everyone to have appropriate and robust measures in place to protect against cyber-attacks which could strike any IT system at any time.
"Police Scotland are investigating the attack, working closely with the National Crime Agency which is leading the UK-wide law enforcement investigative response.
"Subject to approval, I will update Parliament on the latest situation tomorrow.''
Earlier, First Minister Nicola Sturgeon said that patient confidentiality has not been affected, although there will have been an impact on patients with some appointments cancelled.
Ms Sturgeon said she was not aware of any ransoms being paid over the cyber attack but said that will be part of the police investigation.
A "range'' of Windows operation systems are used by the NHS in Scotland and Ms Sturgeon said there is regular investment in cyber security.
She told the Good Morning Scotland programme: "We invest heavily in cyber resistance. The Scottish Government, in the NHS, invests round about #100 million a year. NHS boards will collectively invest a similar amount.
"We expect systems, by and large, to be up and running today, obviously there will be ongoing work to learn lessons about what has happened.''
The First Minister added: ``All organisations returning to work today should follow advice and make sure they are taking all appropriate steps.
``The Scottish Government has been co-ordinating a process over the weekend of contacting round about 120 public sector organisations to make sure that these messages have got out there strongly.
``Private sector companies are obviously vulnerable as well and I think there is a concern that as people switch on their computers we may see more impact from the virus but we will be working as hard as we can to minimise that.''
The Scottish Government wrote to all NHS boards on February 21 this year reminding them of the importance of cyber security and asking them to review the resilience of their systems and their backup procedures.
ends