Justice Secretary 'did not exceed authority' over Chief Constable request
10 January 2018, 18:28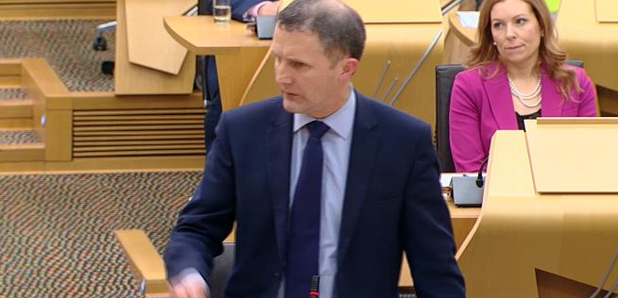 Justice Secretary Michael Matheson has insisted he did not exceed his authority when he asked police watchdogs to "reconsider" their decision to allow Chief Constable Phil Gormley to return to work while misconduct allegations against him were being investigated.
Mr Matheson has come under fire for the move, with Mr Gormley's lawyer insisting that there was "no lawful basis" for the Justice Secretary to intervene after the Scottish Police Authority (SPA) unanimously agreed to end a period of special leave and allow the top police officer to return to duty.

But Mr Matheson blasted the SPA's handling of the matter, saying key parties - including the independent Police and Investigations Review Commissioner (Pirc), who is currently looking at three claims of gross misconduct against Mr Gormley - had not been consulted.

Mr Matheson said he was told about the SPA's decision to reinstate the Chief Constable by its then chair Andrew Flanagan on November 9 2017 - two days after it had been unanimously agreed by the board and the day before the senior officer was due to return to work.

At this point he said Police Scotland's senior command team had not been informed.

In a statement to MSPs at Holyrood, Mr Matheson said there was a "particular concern" about the impact Mr Gormley's return could have on those who had made the allegations.

He said there "did not appear to be a robust plan in place to protect the well-being of officers and staff who had raised complaints or who may have been asked to play a role in the investigation".

The Justice Secretary insisted there were "clear deficiencies" in the SPA's decision-making process which were "completely unacceptable".

He stated: "To have stood by and allowed the SPA to implement that decision without asking them to revisit the decision ... I believe would not have been acceptable.

"That is why I asked them to reconsider it and they did so."

Mr Gormley, who denies the allegations against him, had already been told he was being allowed to return to duty, and was on his way back to Scotland when he was told the decision had been reviewed.

Mr Matheson said the Scottish Government had not been informed that the SPA had "actually already written to Mr Gormley to invite him to return".

The Chief Constable has been on special leave since September 8 2017, with investigations still ongoing.

In a letter to the Justice Secretary, Mr Gormley's lawyer David Morgan stated: ''There is no lawful basis for the Scottish Government's intervention or interference with the lawful decision of the SPA, as the sole statutory body tasked with the operational deployment of the Chief Constable.''

Mr Matheson said that "even though ministers do not normally become involved" in decisions by organisations such as the SPA, such bodies must still "retain the confidence of ministers".

He insisted: "All the Government's actions have been focused upon ensuring due process and fairness to all parties."