JK Rowling 'deeply honoured' to be made Companion of Honour
12 December 2017, 14:21 | Updated: 12 December 2017, 14:30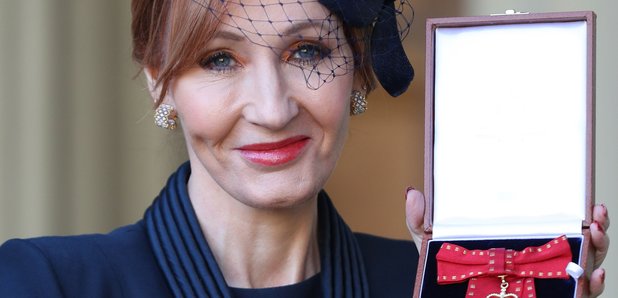 Harry Potter author JK Rowling has told of her pride at being made a Companion of Honour at Buckingham Palace.
The world-renowned author described it as a particular privilege to be given the rare honour as a female writer.
Rowling, who is also marking two decades since the publication of the first book in her best-selling series, has been honoured for services to literature and philanthropy.
In a written statement released as she was decorated by the Duke of Cambridge, the 52-year-old said: "I'm deeply honoured and proud to be receiving this honour.
"To be included in the distinguished and diversely talented company of the other Companions of Honour, especially as a female writer, is a particular privilege."
Membership of the Order of the Companions of Honour, established in 1917 by George V, is a special award held by only 65 people at any one time, and recognises services of national importance.
Rowling, whose first name is Joanne, was awarded an OBE in 2001.
She has previously told how her famous boy wizard creation simply "fell" into her head years earlier while on a crowded train to London after a weekend flat-hunting with her then boyfriend in Manchester in 1990.
Sitting on the delayed train, she said she had "never been so excited about an idea before".
Harry Potter was born, and on her return home that night, Rowling immediately began writing what would become the first book of the series - Harry Potter And The Philosopher's Stone.
A prolific Twitter user with more than 10 million followers, she uses it to promote her charities, including Lumos, and also to speak out against Brexit and US President Donald Trump.
Composer and conductor Sir George Benjamin said he was "deeply honoured" to be knighted for services to music.
The 58-year-old said he had learned he and William share a love of Disney film Fantasia.
He said: "I told him that my love for music was started by seeing the film Fantasia when I was a little child. He (William) loves the film also."
Sir George began composing music at the age of seven and made his debut at the BBC Proms when he was 20, going on to be professor of composition at King's College London from 2001.