Human Trafficking Affects Villages As Well As Cities, Campaigners Warn
29 August 2017, 10:34 | Updated: 29 August 2017, 15:40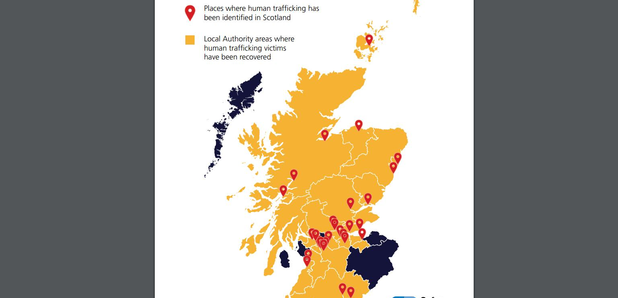 Victims of human trafficking have been identified in towns and villages "across the length and breadth of Scotland", according to campaigners aiming to raise awareness of the extent of the problem.
Newly-published data shows human trafficking has been uncovered in some small and remote communities around the country, and is not just confined to Scotland's major towns and cities.

Communities affected over the last five years include Alva in Clackmannanshire, Appin in Argyll and Bute, and Elgin in Moray.

Justice Secretary Michael Matheson said: "Human trafficking is an appalling abuse of human rights.

"This horrific crime affects the most vulnerable in society and has wide-reaching consequences for its victims.

"Generating awareness that the exploitation of adults and children is happening in Scotland today is key to bringing it to an end.

"This important campaign is part of a series of measures being implemented to eliminate this terrible crime. No-one should ever be bought or sold."

Human trafficking involves adults and children being traded and exploited for personal benefit.

It can see victims being sexually exploited, forced into the role of a servant or trapped in other forced labour.

Research published by the Scottish Government in May showed 54% of people do not believe human trafficking is an issue in their area but victims have been identified in 27 of Scotland's 32 local authorities.

Latest figures show there were 150 potential victims of trafficking identified last year, a 52% increase since 2013.

A new awareness campaign from the Scottish Government is pressing home the message that human trafficking may be closer to home than most Scots think.

Organisations backing the campaign - Police Scotland, Migrant Help and Trafficking Awareness Raising Alliance (TARA) - stressed the importance of bringing the largely hidden crime out into the open and are encouraging people to report any concerns they may have.

TARA operations manager Bronagh Andrew said: "Since 2004, our service has supported women who have been trafficked and sexually exploited within Scotland's sex industry.

"Women have been recovered, not just from our cities but from towns and villages across the length and breadth of Scotland."

Detective Superintendent Stuart Houston, head of Police Scotland's national human trafficking unit, said tackling the issue is a priority for the force.

"We will target those who control, abuse and exploit others by working collaboratively with partners to ensure that Scotland is a hostile environment to this sickening trade," he said.