Glasgow 2014: Best Games Ever
23 July 2015, 09:26 | Updated: 30 March 2016, 13:50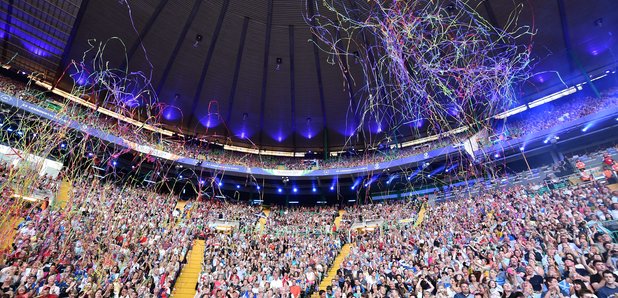 Athletes, officials and politicians have been reflecting on their memories of Glasgow 2014 one year since the city hosted the "best Commonwealth Games ever''.
The competition, featuring athletes from 71 nations in 17 different sports, saw more than 140 Commonwealth and several world records broken.
Events got under way on July 23 last year with an opening ceremony at Celtic Park full of music, dancing and humour before the Queen formally declared the 20th Commonwealth Games open.
Dubbed the Friendly Games, the event was seven years in the planning and delivered countless moments that will live in the memory for athletes and sports fans.
But in many people's eyes, the big winner was Glasgow, which was praised for its "gallus and glittering'' hosting.
Glasgow 2014 saw England top the medal table, followed by Australia, Canada and Scotland, which finished with its best Games medal tally of 53.
Organisers said part of the legacy of the event has been an increased participation in sport in Scotland, with some governing bodies recording substantial growth.
Louise Martin, chairwoman of sportscotland, the national agency for sport, said there was no doubt that as a global sporting event the Games were "incredibly successful''.
"As well as raising sport's profile in Scotland there are a number of positive indicators suggesting there has also been a significant boost for community and performance sport for the country,'' she said.
She said projected figures from earlier in the year showed that over the past four years there has been an 11% increase in members of the 17 sports.
"Facilities, both for community and high performance use, have improved substantially across Scotland and we are connecting those improved facilities and the growing number of coaches to the schools and clubs in our communities, which is helping to grow capacity in Scottish sport,'' she added.
Archie Graham, deputy leader of Glasgow City Council, said: "We've seen more people participating in sport, inspired by last summer, which is fantastic.
"There's also new housing in the east of Glasgow and a refurbished train station, new roads around the area as well as shops and a doctor's surgery, so there's a fantastic legacy.''
Talking about his memories of the event, he said: "Usain Bolt in his tartan bunnet in the rain, Lynsey Sharp getting out her sick bed to win a silver medal, the Renicks sisters winning gold on the first day - there's so many great memories and it really was Glasgow's finest hour.''
Team Scotland judo star Kimberley Renicks was the first athlete to win gold for the host nation and her success was soon matched by elder sister Louise after a golden victory in a different category.
Speaking this week, Kimberley said she wished she could rewind a year.
She added: "It's something we'll always want to do again because we'll never experience anything like it again, a major home games.''
Louise added: "I like the legacy feeling that it's given and that we have our place in that.
"Everyone is still talking about the Games, it's been a quick year but everywhere we go - whether it's a school for a talk or just in the street - people are asking us about the medals and what it was like and how they remember it.''
Gold-winning Team Scotland swimmer Ross Murdoch summed up his experience of the Games as "overwhelming''.
"Obviously my best memory of the Games is winning the gold medal, but another memory which I'll have with me for the rest of my life was doing a lap of honour at the closing ceremony,'' he said.
"Kylie Minogue was on stage at the time and myself, Dan Wallace and my University of Stirling team-mates Lewis Smith, Jak Scott and Robbie Renwick managed to get a whole stand at Hampden Park to go quiet, then we counted down and they all made as much noise as they could.
"It sounds ridiculous but it was amazing as Team Scotland had performed so well and everyone was having a great time.
"Scotland showed the world it is a great place to host major sporting events and we showed that Scottish athletes can win medals at the big occasions like the Commonwealth Games, World Championships and Olympics.
"It has proven to us as athletes and to the next generation that you can achieve anything if you believe in it and work hard.''
Sport minister Jamie Hepburn said: "Ever since Glasgow secured the bid, the Scottish Government has been working with all the partners to build a lasting social, cultural and economic legacy for the whole of Scotland.
"As well as delivering the best Commonwealth Games ever, Glasgow 2014 brought so many opportunities to Scotland and continues to do so.''
He said there have been "significant improvements'' in Scotland's sporting infrastructure, including new facilities like the Emirates Arena and Sir Chris Hoy Velodrome.
He also pointed to events secured by Glasgow since the Games such as the World Gymnastics Championships and 2018 European Games.
"The legacy of the Games didn't start or stop at the time of the closing ceremony, and it won't stop now at the one-year anniversary,'' he added.