Flying Start Lifts Murray
3 July 2015, 07:39 | Updated: 30 March 2016, 13:50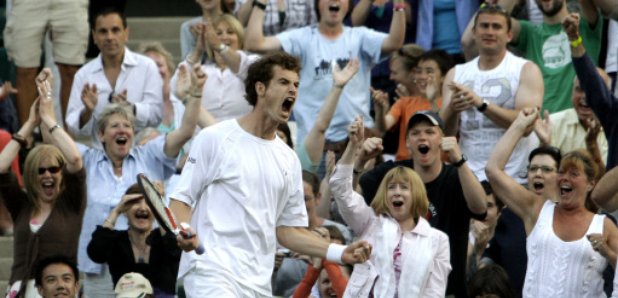 Andy Murray believes his prospects of glory at Wimbledon have been enhanced by the speed of his two opening victories.
Murray beat Haase 6-1 6-1 6-4 in an hour and 27 minutes on Court One, meaning he has taken less than four hours to reach round three after another straight-sets victory over Mikhail Kukushkin on Tuesday.
Italy's Andreas Seppi awaits in the third round and Murray was relieved to save energy, with the likes of Jo-Wilfried Tsonga and Roger Federer potentially to come.
"In grand slams you have to try to conserve energy when you can because the two weeks can be quite draining physically and mentally,'' Murray said.
"If you can get yourself off the court quickly and capitalise if your opponent maybe isn't playing as well, if you're on your game, (you have to) try to push yourself to keep playing that way.
"It can pay off towards the end of the tournament so I'm glad I got done quickly.''
Murray felt dissatisfied after his battling win over Kukushkin but the British number one raised his level against Haase, with a more aggressive and dominant display.
After the match, Murray threw his wristband towards the Duchess of Cornwall as she sat in the stands and it was caught by All England Club chairman Philip Brook, who then passed it to the Duchess.
A Clarence House spokeswoman said the Duchess and Murray met after his win so she could ''pass on her congratulations''.
And Murray said: ''The wristband actually hit the chairman of Wimbledon because he was there with her.
''The Duchess opened up her bag and my wristband was in there, so he obviously had given it to her.''
Murray will now focus on Seppi, who has never been past the fourth round in SW19 and has failed to win a set in six consecutive defeats to the world number three.
The Italian has enjoyed an encouraging year, however, after he inflicted a shock defeat on Federer at the Australian Open, before losing to the Swiss in the final at Halle last month.
"Seppi has had such good results this year,'' Murray said. "He made the final a couple of weeks ago in Halle, plays well on the grass.
"He won against Roger (Federer) at the Australian Open this year - he's capable of playing some top tennis.''
Murray's compatriot and training partner James Ward also won on Thursday, meaning Britain boast two men in Wimbledon's third round for the first time since 2002.
Aljaz Bedene was unable to join them as he lost to Viktor Troicki but Ward's victory over Czech Jiri Vesely pleased Murray, who enjoys a strong relationship with the other British players and regularly offers them advice.
"I'm not just doing it to say I really want to help them,'' Murray said.
"I'm doing it because I'm friends with them, I get on well with them, they're people I like.
"I genuinely care whether they win or lose the matches. The relationship is kind of different with all of them.''