Edinburgh Panda Is 12
14 August 2015, 12:45 | Updated: 30 March 2016, 13:50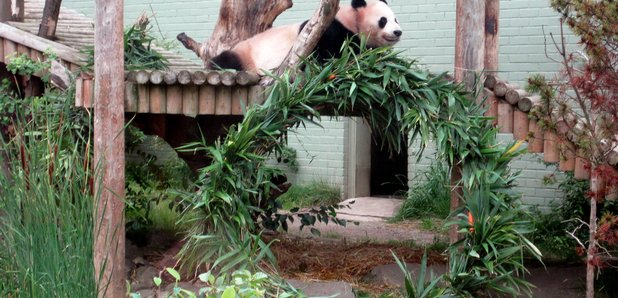 The UK's only male giant panda has celebrated his 12th birthday.
Yang Guang (Sunshine) feasted on a two-tiered cake made from ice and bamboo in his enclosure at Edinburgh Zoo.
He was also given plenty of his preferred species of bamboo, as well as his favourite treat honey.
The keepers placed the large, green cake in Sunshine's outdoor enclosure so he could wander out and look for it, and also fashioned a large number 12 out of bamboo.
Sharon Hatton, senior carnivore keeper at the zoo, said: "This is Yang Guang's third birthday at the zoo. It's the very first time we've made a cake out of ice for him and it was wonderful to see his instant reaction - he loved it.
"He was rolling the ice cake around, throwing it into his pond, rubbing his cold paws over his face after touching it and there were even a few footy moves in there too.
"Obviously he doesn't know it's his birthday, that's a very human thing, but enrichment is an important part of animal's lives as it provides added psychological and physical stimulus.
"It's also enjoyable for staff and visitors alike to see natural behaviours elicited in Yang Guang."
Yang Guang was born in 2003 at the Bifenxia Panda Breeding Centre outside Ya'an, near the city of Chengdu in China's Sichuan Province.
He and his partner Tian Tian (Sweetie) arrived on loan from China in December 2011.
They are the first giant pandas to live in the UK for 17 years.
In June, the zoo confirmed that Tian Tian had conceived after being artificially inseminated, but it could be some time before experts know whether she is pregnant.