Edinburgh Hogmanay To Welcome Thousands
29 December 2016, 14:24 | Updated: 29 December 2016, 14:26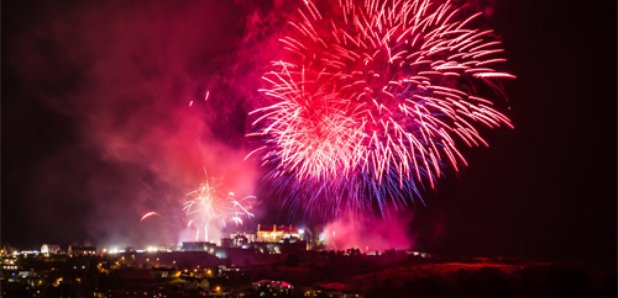 Organisers of the world-famous Edinburgh Hogmanay festival say they are on course for another sell-out this year.
About 80,000 revellers are expected to pack into Edinburgh city centre on December 31 to watch a laser and fireworks display from the ramparts of Edinburgh Castle, which will be visible in the skies for 30 miles around.
The three-day festival produced by Unique Events on behalf of the City of Edinburgh Council will kick off on Friday with a torchlight procession through the city.
A total of 10,000 torchbearers will be led by 30 Up Helly Aa Vikings from Shetland and four pipe bands, illuminating the streets of the Old Town to a fireworks finale on Calton Hill.
On Saturday, the sold-out Night Afore Concert will see Scots favourite Paolo Nutini and indie-rock band Frightened Rabbit take to the stage.
Nutini will then appear at the Concert in the Gardens on December 31, which is also sold out as part of the new year extravaganza.
Meanwhile, Police Scotland said it has "reviewed'' safety plans for the festival following the recent truck attack on a Christmas market in Berlin.
Chief Superintendent Kenny MacDonald said: "We are absolutely confident that the plans that we have in place are proportionate and appropriate and we will make sure that we deliver a safe event.
"We have made sure that we have a sufficient number of stewards, police officers and other emergency services so that we have a proportionate and appropriate response for the size of the event.
"We would ask people to make sure that they dress appropriately for the weather, and if they are going to drink that they do so responsibly and that they make sure they know how they are going to get home at the end of the night.''
Edinburgh's Hogmanay is described as the UK's largest outdoor winter music festival and brings in £42 million to the local economy whilst welcoming 150,000 visitors from 80 countries.
Bosses at Edinburgh Airport projected more than 86,000 passengers would arrive between Christmas Day and New Year's Eve, the highest number ever in the period running up to Hogmanay.
Organisers say the city "punches above its weight'' with images of the midnight celebrations being beamed around the world alongside the likes of Sydney, Rio, New York and London.
Alan Thomson, director of Unique Events, said: "We are very much seen as the home of Hogmanay.
"We hold our own against New York, Sydney and London and for a population the size of Edinburgh to have such a world-class festival, people are drawn to that.
"Thankfully the weather is looking great for the whole festival and our midnight moment this year is going to be bigger than ever before.''
The last remaining tickets for the street party are still available as well as limited torches and wristbands for the torchlight procession, which can be purchased online.