'Devastating' Glasgow School of Art fire spreads to clubs
16 June 2018, 06:07 | Updated: 16 June 2018, 06:11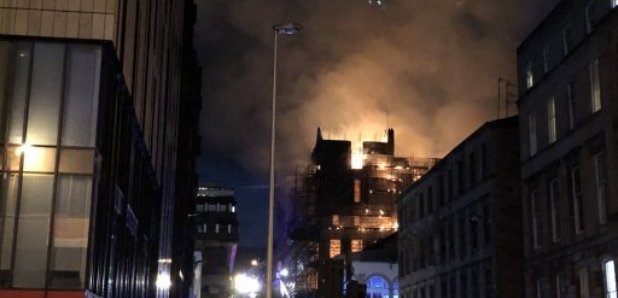 A fire which has ravaged the historic Mackintosh Building has spread to "several properties", the fire and rescue service said.
Buildings including the O2 ABC have suffered "extensive damage" as flames and smoke poured into the night sky from the Glasgow School of Art (GSA) building.
A restoration project, which was set to cost between £20 million and £35 million, had been returning the famous art school to its former glory after a devastating fire in 2014, with Brad Pitt and Peter Capaldi among those lending their support.
More than 120 firefighters were called to tackle the blaze at just before 11.20pm on Friday night.
There are no reports of casualties, although residents living nearby have been evacuated from their homes.
Deputy Chief Officer Iain Bushell said: "This is an extremely challenging and complex incident, but the response and professionalism of our firefighters has been exceptional.
"The fire has taken hold several properties including the 02 ABC nightclub causing extensive damage.
"This will be a prolonged incident and crews will remain on the scene as they work to prevent further fire spread and damage."
Rachael Docherty, 29, is a former graduate of the art school and told the Press Association: "This is terrible. This is a lot worse than the last one.
"We were out earlier on and at 12am we came out it just looked like (it was) fireworks and now it's just white smoke.
"The Mac building is a piece of Glasgow history, it's not art school history, it's Glasgow."
John McInnes, 22, said: "I can't believe that this has happened again to such an iconic building. It's unbelievable.
"Questions need to be asked, they spent so much on renovation, but this seems so much worse than the last one."
Fire took hold of the Glasgow School of Art building in May 2014 in the run-up to the students' degree show, and graduation ceremonies had taken place at the institution earlier on Friday.
The fire at the building, which was designed by artist and architect Charles Rennie Mackintosh and built between 1897 and 1909, has been called "devastating" by the city council leader Susan Aitken.
Paul Sweeney, shadow Scotland minister, said the Mackintosh Building was the "most architecturally important building" in the city.
He added: "Oh dear, the 1909 library extension, that was the origin of the 2014 blaze is now fully alight too. It looks like the entire interior space is now fully alight.
"The best we can probably hope for is structural facade retention and a complete rebuild of the interior. Devastating.
"There must be a comprehensive national effort to ensure every possible option to salvage and restore what is one of the finest edifices in the history of world architecture is pursued in the wake of this latest setback.
"I'll be doing everything I can to promote that in Parliament."