Council plan to demolish all its tower blocks over next 20 years
20 December 2017, 14:28 | Updated: 20 December 2017, 14:31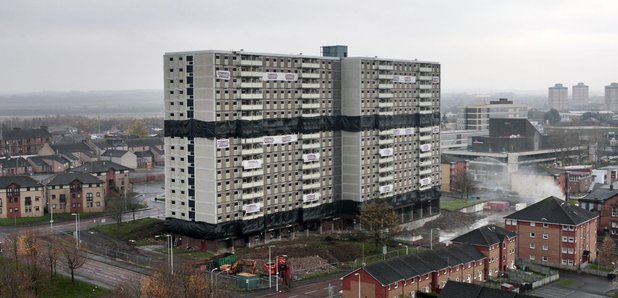 A local authority has announced plans to knock down all of its 48 tower blocks over the next 20 years.
North Lanarkshire Council, which has more than 4000 homes in the towers, said it will begin consultations with residents in February.

The proposals, which the council says will provide better homes, regenerate town centres and create "thousands of jobs" would see half a billion pounds invested in the area.

Councillor Jim Logue, leader of North Lanarkshire Council, described the plans as "hugely ambitious".

He said: "Towers were once the future of housing and we have invested steadily over the years in them.

"But there is no doubt that we are constrained in improving them by the construction; some of our towers were built 55 years ago.

"The quality of homes we are now able to build is exceptional, with great access, adaptability and energy efficiency.

"The past few decades have also seen a move away from people living in and near our town centres.

"It's essential that we do something to regenerate these towns, which have been hit by the rise of internet shopping and large out-of-town retail centres.

"One of the best ways to do that is to have people again living in our town centres in modern, fit-for-purpose housing with great amenities and good transport links.

"While not everyone who currently lives in a tower will wish to live in town centres, we aim to create great town centre properties for those who it will suit."

The authority unanimously approved the council's housing revenue budget last week which will allow it to begin the capital planning to deliver the programme.

Councillor Allan Graham, convener of enterprise and housing, said: "I understand that some residents of our towers will be reluctant about these plans and enjoy living in their current homes.

"That's why it's important we really listen to them as part of a consultation exercise before making final decisions.

"It's hard to understate the significance of these proposals. They will create thousands of jobs over a sustained period and provide a real boost to tenants and our local economy.

"We want to see real progress in tackling the waiting list for council houses and our commitment to the biggest house building programme in a generation in Scotland is testament to our ambition for the people of North Lanarkshire.

"We are also continuing to invest in our existing housing stock with a comprehensive kitchen and bathroom replacement programme."