Company behind Meghan Markle handbag sees website traffic soar
13 December 2017, 11:20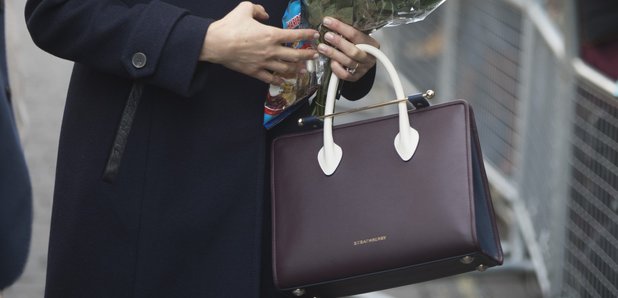 The small Scottish company which made the bag Meghan Markle carried on her first royal engagement has seen its website traffic soar 5000% as a result.
The Strathberry Midi Tote Tri Colour sold out within 11 minutes after images emerged showing Prince Harry's future wife carrying the bag on the couple's visit to Nottingham on December 1.

The same colourway of Strathberry bag was subsequently reselling on Ebay in the US for $2,350 (£1760), marked up from a retail price there of $675 (£505).

Edinburgh-based Strathberry relaunched production the following week due to the level of interest and the first pre-order batch of approx 400 bags sold out on strathberry.com in under 24 hours.

As part of their visit to Notthingham, the prince and Ms Markle lent their support to a World Aids Day charity fair hosted by the Terrence Higgins Trust.

Strathberry has now announced they will auction the last currently available Meghan Midi Tote from the original production run in aid of the Trust.

A Strathberry spokesman said: "The international exposure the Strathberry brand has received since the 1st of December has been incredible, providing us with a fantastic platform from which to further develop.

"We have big ambitions and would ultimately love to position ourselves alongside great creative brands such as: Loewe, Burberry, Fendi and Marni"

The auction will run to 8pm on Sunday, with the bag then being available for sending out to the successful bidder from Monday.

Details on the auction can be found on the Strathberry Website www.strathberry.com.

A second batch of the bags, which cost £495 in the UK, will be available for pre-order soon with an anticipated shipment date of the end of February 2018.

Strathberry is based in Edinburgh and was founded just four years ago in 2013.

Its luxury leather products, which are handcrafted in Spain, are defined by its ''clean lines and signature bar closure'', the firm's website says.

Each bag can take up to 20 hours to make.