Car Smoking Ban "Not Priority" For Cops
16 June 2015, 16:38 | Updated: 30 March 2016, 13:50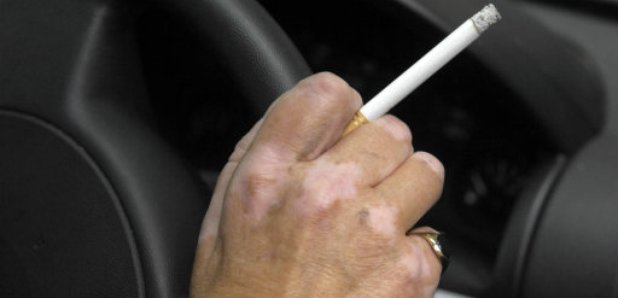 A senior police officer has backed proposals to ban smoking in cars when children are present but conceded enforcing it would not be one of Police Scotland's priorities.
Assistant Chief Constable Bernard Higgins told MSPs at Holyrood he needed his officers to be "tackling the issues that cause people to die on our roads".

There were 191 fatalities on Scotland's roads last year but none were caused by people smoking in cars, he said.

Liberal Democrat MSP Jim Hume wants smokers to be fined £100 if they are caught lighting up in a vehicle when under-18s are present.

Mr Higgins told police that while smoking in cars with children is a "significant health issue", he added that it "isn't causal factor for people dying on Scottish roads".

He accepted Police Scotland would "absolutely" have a role to play in enforcing the Smoking Prohibition (Children in Motor Vehicles) (Scotland) Bill if it becomes law.

But he also told MSPs: "In terms of the impact on our priority to make the road safer and reduce the number of people killed, then it won't have a huge impact on that.

"We would have to prioritise what action we take to actually reduce the number of people that die on Scotland's roads, and I dare say that smoking would not fall into that category."

Mr Higgins added: "In terms of the benefit to the health of the nation, we absolutely get it and we absolutely support it, but the reality is I'm not going to be setting up road blocks to check for people smoking in cars because I need my officers on the fast roads, the big roads, the roads where people are dying and tackling the issues that cause people to die on our roads.

"Police Scotland absolutely supports the introduction of this Bill, anything that makes Scotland a healthier place and protects communities from harm we absolutely buy into it. We're also happy to be an enforcement agency in terms of enforcing the legislation."

But he said for the Bill, which has already received the backing of the Scottish Government, to have the greatest impact, Police Scotland should not be the only body to enforce the proposals.

While only police officers have the authority to stop a moving vehicle, Mr Higgins said people such as environmental health officers, local authority officers and traffic wardens could deal with those caught smoking with children in their car, provided the vehicle is not moving.

He suggested: "There are a number of people who will smoke with children in their vehicle that are stationary, parked up in car parks.

"The legislation could be extended to authorise other authorities to deal with that.

"There is no will for Police Scotland not to do this. There is perhaps opportunities to widen the number of authorities that can enforce it and thereby have a greater impact."

He stressed: "Whilst we would absolutely enforce it, all I'm suggesting to committee is that you look beyond the role of the police and see who else could assist in that aspect of the legislation."

William Hamilton, environmental health manager at Glasgow City Council, said there was a "real difficulty" seeing how environmental health officers could enforce the proposed new law "to the kind of extent that would be meaningful".

He said: "I take the point about the stationary vehicles, but in reality we don't have the people on the ground in the street to the same extent as the police do, so intervening with a stationary vehicle, it is conceivable, it is feasible, but the numbers involved, I really can't imagine it happening to any meaningful extent."

He accepted that "people might pick something like that up when they are travelling from A to B" but added: "Intervening in an unexpected and unplanned way would be problematic, and really to be truthful unlikely to happen to any great extent."