Brain Family Vow To Fight On
3 August 2016, 12:14 | Updated: 3 August 2016, 12:44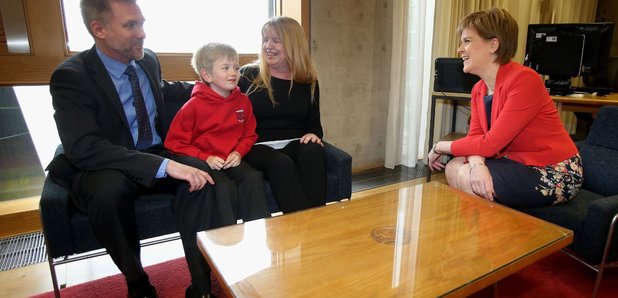 An Australian family fighting to remain in Scotland have said their battle is not yet lost despite being urged to leave the UK voluntarily by the Home Office.
Gregg Brain said he and his wife Kathryn are continuing their ``desperate'' search for a job that meets visa requirements after it was confirmed their leave to remain would not be extended further.
The family, who moved from Australia to Dingwall in the Scottish Highlands with their son Lachlan, who is now seven, in 2011, had been given until the end of Monday to secure employment that would meet the specifications for a UK tier two visa.
They initially moved to the UK on Mrs Brain's student visa but a two-year post-study visa scheme then on offer was later withdrawn by the Government.
A letter from UK Immigration Minister Robert Goodwill said there are ``no exceptional considerations'' that would justify granting the family leave to remain outside the immigration rules.
Mr Brain told BBC News: ''We've been told we have to go, however I certainly would not nearly characterise this as being a lost battle or over.
''We're still talking to our lawyer about options going forward. In fact I understand that we may still be able to make a complying application if an employer comes forward.
''So certainly we'll be talking to the Home Office about what arrangements need to be made going forward. We're certainly a long way from giving up yet.
''We're still desperately searching from an employer and I hope that one will come forward and we'll be able to make an application to allow us to stay.''
The letter from Mr Goodwill was sent to SNP MP Ian Blackford and copied to the family and Scottish External Affairs Secretary Fiona Hyslop.
In it, he said: ``As we have both agreed, either Kathryn or Gregg Brain needed to secure a job offer which qualifies under tier two, the skilled work route.
''I regret that that has not yet happened, despite having had since 2012, nearly a year having passed since Kathryn finished her studies and the three extensions that have been granted to the family on an exceptional basis.
``We need to treat the Brain family fairly, but also everyone else in a similar position.
''There is no fundamental difference between their circumstances and that of any other individuals who came to the UK on a temporary study visa and there are no exceptional considerations which would justify granting them leave outside the immigration rules.''
Mr Goodwill said the case will now be handled by the family returns unit of immigration enforcement, and Scotland-based family engagement staff will contact the Brains later this week ``to begin discussions with them regarding a voluntary departure to Australia''.
In response, Mr Blackford, the Brains' MP, accused the Home Office of having ''callous disregard'' for the family.
He said: ''The Home Office claims the family arrived after the post-study work visa had been removed, however when the family received their visa, the post-study work visa was in place and it was the receipt of their visa that triggered their decision to leave Australia.
''The Brain family have only ever asked for the post-study work visa to be honoured but the UK Government has doggedly opposed this - and yet they have just announced a new pilot visa scheme for international students at a handful of universities in the south of England.
''I will continue to work over the coming days with the family - the challenge we all face is to unearth an opportunity that will allow the family to stay.''
A Home Office spokesman said: ''We have not received any fresh application from or on behalf of the Brain family which would allow them to stay in the UK.
''We have given the family three extensions on an exceptional basis over a number of months to allow them to try to secure a job that would allow them to meet the immigration rules, but this cannot be open-ended.
''In line with established policy designed to apply evenly and fairly to everyone, anyone who is unable to regularise their stay is expected to leave the UK voluntarily.''