Boxer Mike Towell Laid To Rest
14 October 2016, 17:31 | Updated: 14 October 2016, 17:35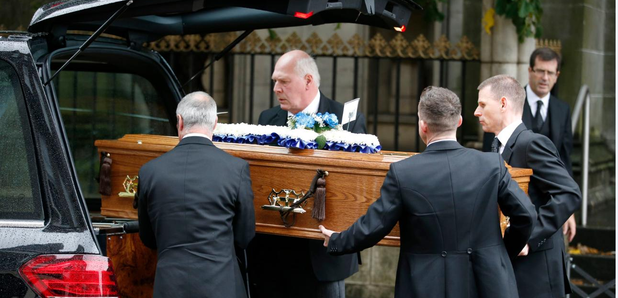 The family of boxer Mike Towell, who died after being stretchered from the ring in a televised fight, have said it was a ''real comfort'' to have his opponent at his funeral.
The 25-year-old, known as Iron Mike Towell, died in hospital the day after he was removed from the ring at the end of a fifth-round loss to Dale Evans in Glasgow on Thursday September 29.
The young father, from Dundee, was diagnosed with severe bleeding and swelling to his brain but survived for 12 hours after being removed from life support at the Queen Elizabeth University Hospital in Glasgow.
Welsh boxer Evans was among around 300 people to attend the funeral at St Andrew's Cathedral in Dundee, and he hugged friends and family of Towell at the end of the service as the coffin was carried into a waiting hearse.
Following the funeral, a statement issued on behalf of Towell's family by the St Andrew's Sporting Club said: ``It was a real comfort for us to have Mike's opponent Dale Evans at the funeral with us because our hearts go out to him.
''He has also been through so much and no fault will ever lie with him, this was just two boys boxing and doing what they loved best.
''Dale is a terrific lad and it has meant so much that he has kept in touch with us so much since the fight. He is in bits and devastated like us all.
''We are thinking about him, we care about him, and we would like to thank Dale and all the thousands who have sent messages of support and goodwill since Mike passed.
''We have lost a son, a partner and a father and we will always mourn him, yet we know we will always smile every day at his memory too.''
The statement added: ``Today is the hardest day of all for us, the day we realised for sure that Mike wasn't coming home to us.''
The family said there are ``so many people'' to thank for their support, including staff at the hospital who treated the young boxer and were ''in tears'' with the family.
Mourners were asked for donations rather than floral tributes at the funeral, and the funds will be split between the hospital's neurology department and the special care baby unit at Ninewells Hospital in Dundee, which cared for Towell in the week after his birth.
The family also thanked his manager Tommy Gilmour, saying he has been ''so kind and caring''.
Among the other boxers at the funeral service was Nick Blackwell, who retired from the sport earlier this year after he had to be put in a medically-induced coma at the end of a British title bout.
A mural featuring boxing gloves emblazoned with ''Mike'' has been created in Dundee by artist Syke, and Evans and Blackwell posted pictures of themselves at the site on Twitter after the funeral.
Evans added the message ''RIP Iron Mike'' to his picture.
Blackwell wrote: ''Very emotional day but what a send off for mike towell! Shows the type of guy he was. #RIPChamp.''
Towell had been undefeated going into the bout - which was an eliminator for the British welterweight title - with 11 previous wins and one draw on his professional record.
It was revealed following his death that Towell had been complaining of headaches in the run-up to the fight, but his management said they were not aware of any issues.