Bin Lorry Driver Will Not Face Charges
12 August 2015, 14:03 | Updated: 30 March 2016, 13:50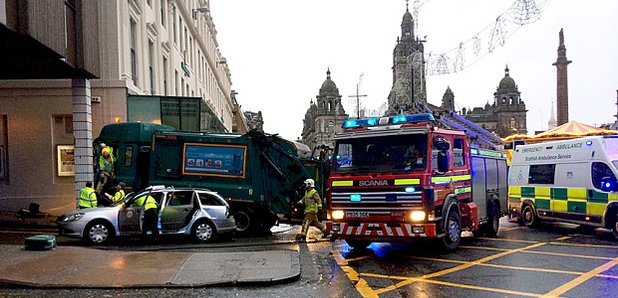 The driver of the bin lorry that crashed in Glasgow killing six people will not face any charges, a fatal accident inquiry has heard.
Solicitor General Lesley Thomson QC had been asked to clarify whether Harry Clarke could face prosecution in light of evidence which has emerged during the inquiry at Glasgow Sheriff Court.
She said in court today that the scope of the Crown's decision not to prosecute Mr Clarke, 58, extends beyond the December 22 crash to include information he provided to doctors, the DVLA and Glasgow City Council regarding a previous blackout in 2010.
Lawyers acting on behalf of the victims' families have been asked to indicate if they intend to pursue a private prosecution against Mr Clarke.
The Crown Office issued a statement in February confirming it would not be pursuing any criminal prosecutions in relation to Mr Clarke and the incident in George Square on December 22 last year.
But Sheriff John Beckett asked Ms Thomson if the Crown would bring fraud charges against Mr Clarke after the inquiry heard he failed to disclose his health history to the DVLA and on job application forms.
Mr Clarke is said to have previously fainted while working as a bus driver but failed to disclose the incident when he joined Glasgow City Council.
Referring to the decision not to prosecute him, Ms Thomson said: "I consider that the scope of the decision in February 2015 described in respect of the tragic incident extends to all aspects of the manner of Mr Clarke's driving on December 22 as well as information previously provided to doctors, the DVLA and Glasgow City Council in respect of the incident in April 2010 when he was employed by First Bus.''