Bin Lorry Driver 'Denied Blackout'
10 August 2015, 14:27 | Updated: 30 March 2016, 13:50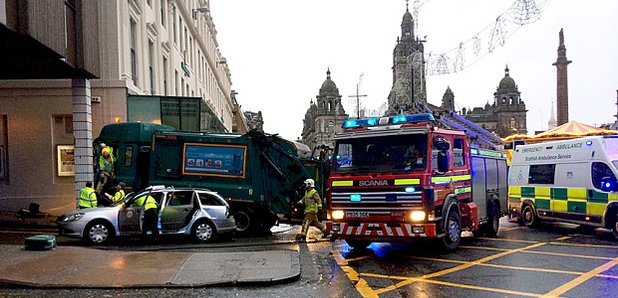 The driver of a Glasgow bin lorry that veered out of control killing six people told a doctor he had not lost consciousness behind the wheel during an earlier incident in 2010, an inquiry has heard.
Harry Clarke, 58, was driving the council truck in the city centre on December 22 last year when the fatal crash occurred. Witnesses reported that he appeared to lose consciousness at the wheel.
A fatal accident inquiry at Glasgow Sheriff Court has heard claims that Mr Clarke failed to disclose information about his medical history on several occasions.
It has been told that he has a history of health issues such as fainting and dizziness dating back to the 1970s, including fainting at the wheel of a stationary bus in April 2010.
The Crown Office said in February that no criminal charges would be brought against Mr Clarke in relation to the bin lorry crash, but relatives of Jacqueline Morton, one of those killed in the incident, have called for him to be prosecuted.
The inquiry has been hearing from cardiologist Professor Andrew Rankin, who saw Mr Clarke as a patient in February and had some records of the 2010 episode.
During cross-examination, Dorothy Bain QC, representing the family of Ms Morton, put it to the witness that Mr Clarke had given him a "completely different'' account of the 2010 incident to that given to other doctors.
"He told me that he had not actually lost consciousness,'' the professor told the inquiry.
Prof Rankin agreed he appeared to have been given a different account to that given to other doctors that Mr Clarke had in fact "blacked out''.
Mr Clarke has been suspended from work by Glasgow City Council ''on a precautionary basis'' ahead of a full investigation.
Ms Morton, 51, and Stephenie Tait, 29, both from Glasgow, and Gillian Ewing, 52, from Edinburgh, were killed as the lorry travelled out of control along Queen Street and towards George Square before crashing in to the side of the Millennium Hotel.
Erin McQuade, 18, and her grandparents Jack Sweeney, 68, and Lorraine Sweeney, 69, from Dumbarton, West Dunbartonshire, also died from multiple injuries after being hit by the truck.
Solicitor Advocate Ronald Conway, representing the family of Ms Tait, listed several other fatal accident inquiries, past and ongoing, that have involved drivers apparently blacking out at the wheel.
"Even on an anecdotal basis this is an area of public concern," he said.
He questioned the "practical utility" of current DVLA guidelines for health professionals, comparing them to examples from other parts of the world including Canada.
"There may be a submission that the guidelines are complicated and in some areas lacking in simplicity," he said.