BiFab Talks Between Unions And Scottish Government
16 November 2017, 06:25 | Updated: 16 November 2017, 06:26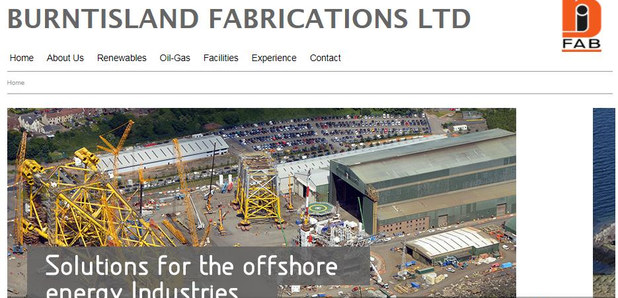 Unions have held a "good positive meeting" with the Scottish Government as they work to protect 1400 jobs at struggling engineering firm BiFab.
Burntisland Fabrications Ltd (BiFab) says it has been left facing a ''critical cash position'' as a result of ongoing contracts, with the firm having filed a notice of its intention to appoint administrators.
Despite the fact they may not get paid, staff at the company, which has yards at Burntisland and Methil in Fife and Arnish on the Isle of Lewis, have voted to continue working until further notice.
Unite Scotland secretary Pat Rafferty said the government is leaving "no stone unturned" as they try to find a resolution to the crisis.
However he said the main Dutch-owned contractor, Seaway Heavy Lifting (SHL) and energy giant Scottish and Southern Energy (SSE) must come to the negotiating table in order to resolve the situation.
Economy Secretary Keith Brown met with unions on Wednesday to discuss the issue.
Following the meeting Mr Rafferty said: "I think we've had a good positive meeting with the Scottish Government today and a number of options we know are being explored.
"They are leaving no stone unturned and we are confident they are working alongside us and will continue working alongside us to try and get a resolution to this and try and protect these 1400 jobs in these three yards."
Unions have claimed the engineering firm's financial difficulties are a direct result of SHL not paying the company for contract work already completed with Mr Rafftery stating BiFab is being ''held to ransom''.
He said it is a Scottish project for SSE, the Scottish energy giant, for a massive Scottish windfarm, and called on the energy giant and SHL to join the negotiations.
Mr Rafferty added: "There clearly is a blockage on the pathway and that's down to we believe Scottish and Southern Energy and the Dutch company SHL.
"We need both of those companies to be coming forward, we need them to be coming to the negotiating table they to get involved in these talks in order to resolve this situation."
Mr Brown said the Scottish Government is doing all it can to secure a positive resolution.
He said: "The Minister for Business, Innovation and Energy, Paul Wheelhouse, and I have been holding senior level meetings since Friday with BiFab, Seaway Heavy Lifting (the installation contractor), SSE, Siemens, Scottish Enterprise and other partners, and we are determined to fully explore all options to save the company - and the jobs that depend upon it.
"We have been working closely with Trade Unions, and invited representatives to a meeting in the Scottish Parliament this afternoon to update them on developments.
"The First Minister, along with other ministers, has been in direct discussion with the companies involved and is closely engaged on the issues surrounding BiFab's situation.
"Ministers from both the Scottish and the UK governments are involved in discussions about how we can work together to achieve a successful outcome for the company and all the staff."
SHL said it is working "extremely hard" to find ways of supporting BiFab.
A spokesman said: ''We remain supportive of a rescue package that is endorsed by and involves all stakeholders.
''SHL continues to pay BiFab on time. We estimate that 61% of the work has been completed and, as a result, have paid BiFab 61% of the project value.
''We have been working pro-actively with BiFab since October 2016 to address production problems and cost overruns.
''SHL has always been keen to support BiFab's workforce, but we need a long-term plan from BiFab to ensure financial stability and project completion.''
A spokesman for Beatrice Offshore Windfarm Limited (BOWL) said: "The construction of the Beatrice Offshore Windfarm Limited (BOWL) project - owned by SSE (40%), Copenhagen Infrastructure Partners (35%) and Red Rock Power Limited (25%) - is advancing on programme with the majority of the offshore piles completed and nearly one third of the jacket substructures installed.
"BOWL has contracted the production and installation of the jacket substructures to Subsea7, a UK-based EPC company, which in turn sub-contracted a portion of the jacket fabrication to BiFab.
"BOWL fully expects construction activities will continue on schedule, with all jackets installed by August 2018 and the project fully operational by around March 2019."