Average Home 'Now Taking 96 Days To Sell'
17 November 2017, 07:56 | Updated: 17 November 2017, 08:05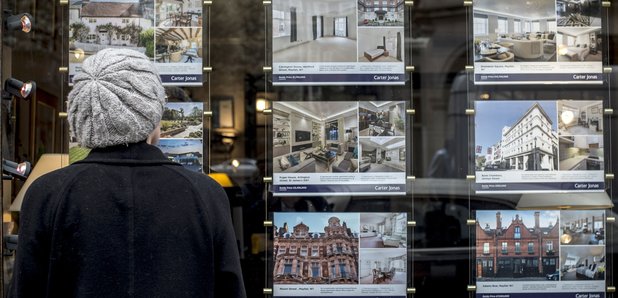 House sellers can expect their property to take just over three months to sell, according to a report.
While the average UK home takes 96 days to sell, up from 91 days a year ago, properties in the Scottish cities of Edinburgh and Glasgow were found to typically spend around half this time on the market before being snapped up, at 41 days and 50 days respectively.
Post Office Money released the findings after commissioning the Centre for Economics and Business Research (Cebr) to look at average selling times across a selection of UK towns and cities.
It found that homes in Liverpool and Belfast take the longest to sell, at 112 days and 119 days respectively.
Homes in London are also taking longer to sell than the average across the urban areas analysed, at 111 days typically.
House prices have risen in each of the cities analysed in this report over the last year, by 5% on average.
Owen Woodley, managing director of Post Office Money, said: "If a sale moves faster, or takes longer than planned, buyers can face unexpected costs."
Here are Post Office Money's top tips for home-buyers:
1. If you are buying in an area with a slower sale rate, an ability to move faster may provide an opportunity to negotiate with the current owners on the house price.
2. Think ahead about what stop-gaps such as renting or staying with friends are most financially viable to you if you are in a chain - particularly if sales in your area tend to complete faster than where you are moving to.
3. Use average sale rates to help plan for extra costs if your home takes longer to sell than expected. Paying council tax, home insurance and service charges on two properties can quickly add up.
4. If you are currently renting, discuss options with your landlord - just in case you need to stay longer than planned in your rental property.
Post Office Money also has tips for sellers, from NAEA (National Association of Estate Agents) Propertymark:
1. First impressions are key, so make sure the property looks well-maintained and cared for from the outside.
2. Anything too personalised can be a turn-off, so keeping colours neutral can help.
3. Clear your garden of any litter and make sure the lawn is mowed, leaves are raked away, weeds are removed and overgrown trees are cut back.
4. Giving your kitchen a quick freshen-up is a cost-effective way to improve the appearance of your home. Giving cabinets a quick lick of paint, or replacing the doors and handles can bring instant appeal.
Here are the average selling times of properties in major cities across the UK, and the average house price, according to Post Office Money:
Edinburgh, 41 days, £246,611
Glasgow, 50 days, £125,634
Bristol, 61 days, £277,243
Stoke-on-Trent, 70 days, £104,250
Manchester, 71 days, £166,982
Portsmouth, 73 days, £200,551
Nottingham, 74 days, £134,658
Leicester, 76 days, £161,616
Plymouth, 76 days, £171,921
Birmingham, 77 days, £175,943
Leeds, 77 days, £176,015
Southend-on-Sea, 78 days, £276,602
Norwich, 83 days, £200,581
Sheffield, 83 days, £158,343
Brighton, 84 days, £365,601
Cardiff, 86 days, £196,625
Derby, 86 days, £151,722
Newcastle, 97 days, £162,876
Hull, 101 days, £110,427
Swansea, 110 days, £140,661
London, 111 days, £484,362
Liverpool, 112 days, £126,862
Belfast, 119 days, £120,351