13 protestors charged after Edinburgh demos
18 June 2019, 11:15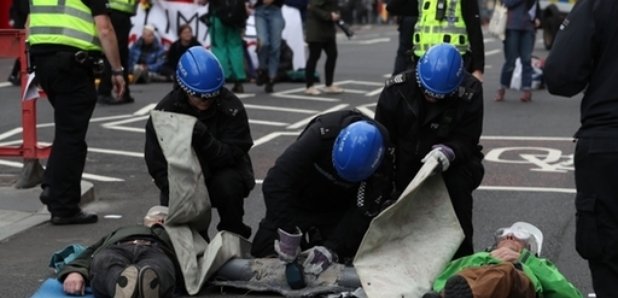 A total of 13 people have been charged after climate change protests caused disruption in Edinburgh.
Activists blocked Lothian Road for around six hours on Monday with some seen lying on the road, locked together.
Earlier, protesters also took to the Royal Mile at its junctions with North Bridge and George IV Bridge, where attempts to stage road blocks were swiftly broken up by police officers.
Police said six men aged 46, 57, 53, 19, 68 and 25 were charged in connection with the Lothian Road blockade while two men aged 32 and 49 and five women aged 61, 18, 41, 57 and 37 were charged following other disruption in the city.
The various protests caused travel delays, with a number of bus routes diverted until Monday evening.
The action comes during a five-day protest outside the Scottish Parliament, dubbed the Holyrood Rebel Camp, which is scheduled to run until Thursday.
At North Bridge, protesters holding banners stood at the four corners of the junction as they called for Scotland to lead the world in taking the "radical" action required to address what they describe as a climate emergency.
Protesters held banners saying "Climate Emergency" and "Act Now".
Extinction Rebellion Scotland is demanding ministers act to halt biodiversity loss and reduce greenhouse gas emissions to net zero by 2025.
Campaigners also want to influence discussions about Scotland's Climate Change Bill, being debated over the coming days at Holyrood.
Sarah Mercer, an activist from the Isle of Man, said: "This really is the biggest cultural revolution that we're going to go through in our living memory and to be honest with you, in most of human existence.
"I think that being a part of the change of being on the right side of history is really important and we'd like other people to be on the right side of history so that's why we're here and talking to people and getting engaged with politicians."
She added: "What they (MSPs) are putting in place, the original Climate Bill, is really good and it's based off of climate and emissions recommendations so it's great but it's just not enough.
"So we're here to be like 'thank you so much for what you've done so far, and it is amazing and you are world leaders, but it's still not enough and you need to take it one step further'."
The 13 people who were charged are expected to appear in court at a later date and reports will be submitted to the procurator fiscal.
Chief Superintendent Matt Richards from Police Scotland said: "First and foremost I want to thank the communities of Edinburgh for their patience and co-operation while we dealt with the events that took place within the city centre on Monday afternoon and into the evening.
"Our number one priority is, and always will be, public safety and we took all the necessary steps to remove demonstrators without risking injury to them, our officers or others in the area.
"While we fully support the right to peaceful demonstration, any action which puts members of the public at risk of injury, or has an impact on the city's infrastructure, is unacceptable.
"We have outlined our stance to the protesters and remain in dialogue with them, while at the same time we continue to plan for any further activity that may occur over the coming days."