Adam Peaty Sends Warning To Rio Rivals
13 April 2016, 09:24 | Updated: 13 April 2016, 09:25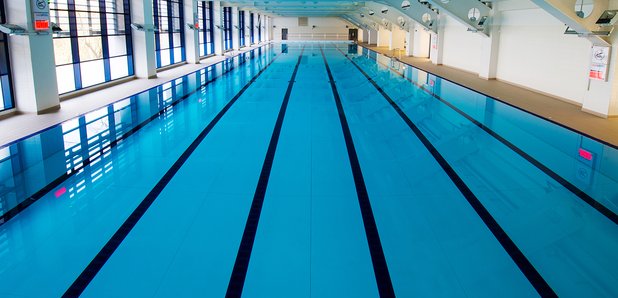 World Champion Adam Peaty warned his 100m breaststroke rivals he will only get better after booking his place at this summer's Rio Olympics.
The 21-year-old Derby athlete claimed victory at the British Swimming Championships in Glasgow - which double as the UK's Olympic Trials - after an impressive swim.
He was one of three competitors to seal their place in Team GB on the first night of competition alongside Bury's James Guy and Hannah Miley of Inverurie.
Up against home favourites Ross Murdoch and Michael Jamieson, Peaty cruised to the gold in a time of 58.41 seconds.
That was just under a second quicker than the consideration mark required by the British Olympic Association for the Games in Brazil.
Peaty - who won won three events and set two world records at last year's World Championships in Russia - said: "I'm relieved to have booked my spot. Since September after the Worlds it has been in the back of mind that I've still got to qualify and I know what these guys are like, they are fast.
"I never took that for granted but thankfully my training has helped out.
"I know that wasn't anywhere near my best, though. I'm glad I came first but 58.4, well it was better that the time I recorded when I won the worlds but I know what went wrong in that race. Hopefully next time I'm going to be out a little bit faster and come back a bit stronger.
"I've got the 200m now - I've not done a 200m since January/December time so it will be great to get out there are race again. All the pressure is off now that I've booked my place.''
The 200m on Friday will be of bigger concern to Scot Murdoch, although he believes he has already done enough to convince selectors to name him in their 30-man squad with his display in the shorter event.
Back in the Tollcross pool where he stunned compatriot Jamieson - who this time could only finish seventh - by winning the 2014 Commonwealth 200m gold, he finished second 0.9 secs behind Peaty but said: ``I think I've done enough to get to Rio today. Now it's all about focusing on the 200m.
"This is a chance to to make a dream come true. It's been a dream of mine since I was very little to become an Olympian. I never really thought it would happen so this is a big week for me.''
Double world champion Guy easily confirmed his place at the Rio games in the first race of the night as he won the 400m freestyle in a time of 3 mins 43.84 secs.
But the 20-year-old was left feeling off colour after his triumph.
He said: "Did I push myself hard? Jesus yes. I got out of the pool and was just sick everywhere.
"That's the first time that's ever happened to me. I think nerves had something to do with it - that and the pasta I had for lunch.
"But now I've got the qualifying time the pressure is off and I can enjoy the meet.''
However, there was disappointment for Commonwealth Games silver medallist Jazz Carlin as she missed out on the qualifying target in the women's 200m freestyle final.
She has two more chances this week to grab her slot, while the BOA also have six wild cards to hand out when they confirm their squad a week on Thursday.
Meanwhile, Miley, 26, admitted she was relieved after claiming the women's 400m individual medlay title in 4:33.40
She said: "It is so hard getting on this British team. It is very cut-throat. There is no semi-finals in this event. You either do it or you don't.
"I guess that is what the Olympics is like. You don't get second chances.
"At the moment, though, I feel everything is on track. But I still have a long way to go to improve enough to make sure I get in amongst the medals in Rio. I kind of need to get back to the drawing board and focus.''