100s BiFab Jobs Could Be Lost
13 February 2018, 08:06 | Updated: 13 February 2018, 08:07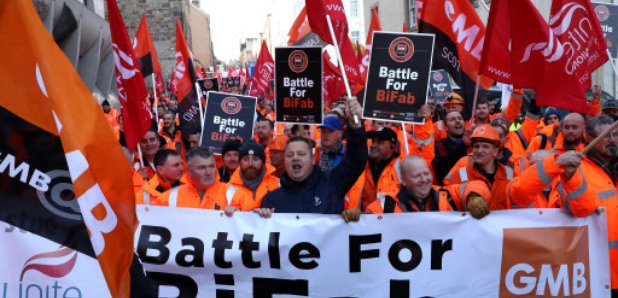 Hundreds of workers at BiFab marine engineering yards are to be made redundant, union leaders have said.
Management at the yards told trade unions on Monday they will be issuing redundancy notices to the core workforce on Tuesday, giving 45 days' notice of the closure of the yards.
Unions say 260 jobs at yards in Fife and Arnish on Lewis are to go by early summer, with the possible total closure of the yards by the end of June.
Bob McGregor, regional officer at Unite, said: "So much has been done to save these yards until now.
"The workers there have fought for their future and it is difficult to believe that it can now be snatched away from them.
"The closures of these yards will turn these areas into an industrial graveyard. The prospect fills us with dismay."
In November, the yards were threatened with closure over a dispute with a major sub-subcontractor on the Beatrice Wind farm contract for the Cromarty Firth.
BiFab workers occupied the yards and called for Scottish Government intervention to save them.
Industry minister Keith Brown and First Minister Nicola Sturgeon brokered a deal involving all the major contractors to save the yards.
However, the Beatrice Wind farm contract is now coming to a close.
Claire Baker, MSP for Mid Scotland and Fife, hosted a cross-party meeting on Wednesday at the Scottish Parliament to discuss the yards.
She said in a tweet: "After a Parliamentary show of support last week for BiFab workers this must be challenged - these jobs are vital for Fife economy and our future industry base."
Mr McGregor of Unite said: "We can't say this is a total shock because work at the yard has been running down for weeks now.
"However all the interested parties, the company, the contractors, the unions and the Scottish Government, given what has been done so far, must surely look to have an 11th-hour intervention which can do something to save these jobs."
No-one from BiFab was available for comment.
Economy Secretary Keith Brown said: "This will be hugely concerning for the workers affected and their families.
"Scottish ministers have offered support to BiFab to allow work to continue on the contracts for the Beatrice offshore wind farm development through a loan facility and have been fully focused and working intensively to secure a long-term future for the company.
"Ministers recognise that more work remains to be done to secure the long-term future of the company and are fully committed to offering support where possible to attract long-term investment in this vital sector of the Scottish supply chain and economy."