WATCH: "This Is Gonna HURT" - We Fire Tennis Balls Up To 170MPH At Sonny Jay's Head... 'Cause, Why Not?
13 July 2017, 08:27 | Updated: 13 July 2017, 08:31
You get all of the benefits of Wimbledon, without having to pay a lot for strawberries. Everyone's a winner.
The pros of Wimbledon - you get to sit in the sunshine, eating more strawberries than you've eaten in your entire life, cheering on your favourite sportspeople.
The cons of Wimbledon - Roman Kemp may stand you in front of a tennis ball-serving machine, and force you to get pelted by balls at record-breaking speeds.
> We Defy Anyone Not To Giggle Through This Video Of Olly Murs Challenging British No.1, Konta, At Tennis
To cheer on our gal, Johanna Konta, Ro wanted to prove just how difficult it was for tennis players to come face-to-face with those powerful serves. Obviously he didn't want to do it himself; only a fool would do a task like this. Enter Sonny Jay...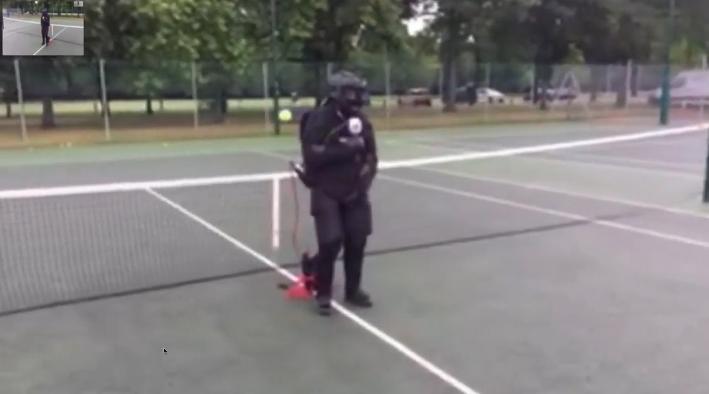 Dressed head-to-toe in protective gear (or, as he like to call it, his Batsuit) Roman and Vick Hope fired questions to Sonny; from how many strawberries were sold at the championships, to what was Vick's middle name. Unfortunately for him, he didn't get a single one right.
Starting from a whopping 70 miles per hour, we ramped up the speed at which the tennis balls were fired at him, right until he was being pelted in the face by little, fluffy green orbs soaring at over 170MPH.
Luckily for him, Wimbledon only happens once a year. See you for another match in 2018, yeah, Sonny?
> Download Our App Now - We Promise You It's Pretty Ace (We're Sorry For That One. Sigh...)
Roman doesn't see Wimbledon as a chance to watch great athletes - he sees it as a time to pester his pals with tennis-based pranks, like this one he pulled on Jack Whitehall...