Windies legend Sir Garfield Sobers says Shai Hope is 'class' but questions modern coaching
20 January 2019, 14:30 | Updated: 21 January 2019, 14:39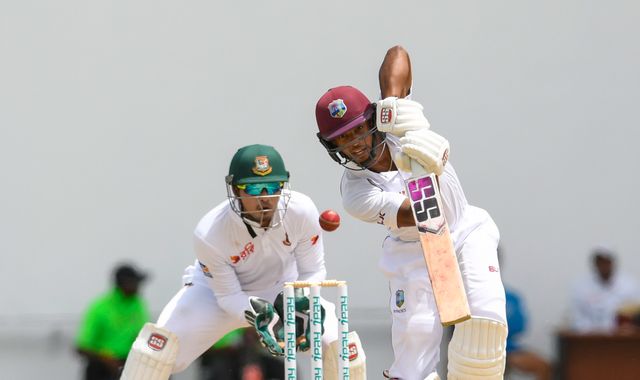 West Indies legend Sir Garfield Sobers has praised Shai Hope ahead of the three-match Test series against England but has questioned some of the coaching modern players receive.
Sobers said that Hope's quality instantly stood out when he spent a few weeks coaching the Windies side and tried to offer the batsman a couple of pieces of advice.
Widely acknowledged as one of the greats of the game, Sobers played 93 Tests for the Windies, scoring over 8,000 runs at 57.78 and taking 235 wickets.
Asked which of the current Windies players he was impressed by, Sobers told Sky Sports: "Shai Hope. I saw him when the president [of Cricket West Indies] asked me to come down and do some coaching with the team for four or five weeks.
"The first time I saw him, I said 'pfft, this is class! This is class'."
The 82-year-old worked with Hope during his brief time with the team but says that it is important not to try and change too much when coaching a player.
"He had one shot that I didn't want to take away from him because he played it all the time and that was hitting the off-spinners, trying to hit them through mid-off and that kind of thing," Sobers added.
"Never take away what a player has, try to help him with the others or try to help him to play that shot better. After about two or three weeks watching him, I just said to him, 'Shai, that's your shot, don't lose it, don't let anybody take that away from you but I can just give you another string to your bow.
"There are only two men behind square [on the legside], that's a big area for two men to control. If you went over to the off stump a little bit, do you know how many runs you could score through there? They can't put anybody else there, only two. Try it, if you can't do it, put it away, play the way you play but just give it a try in the nets, practise it and see how it works for you'.
"But the coaches today just say, 'no, bad shot. Don't do that. Do this and do that'. I believe some of the coaching now is wrong, I don't know why."
England may only have won one series in the Caribbean in the last 50 years but you have to go back to 1990 for the last time they were beaten in a Test at the Kensington Oval, the venue for Wednesday's first Test.
"England always win in the West Indies, especially here in Barbados, more so than anywhere," Sobers said. "This is their ground. Every series it feels like they won here."
Watch England's tour of the Caribbean live on Sky Sports this winter, starting with the first Test in Barbados from 1pm on Wednesday.
(c) Sky News 2019: Windies legend Sir Garfield Sobers says Shai Hope is 'class' but questions modern coaching