North Wales Police increase stop and search
18 September 2018, 12:04 | Updated: 18 September 2018, 12:12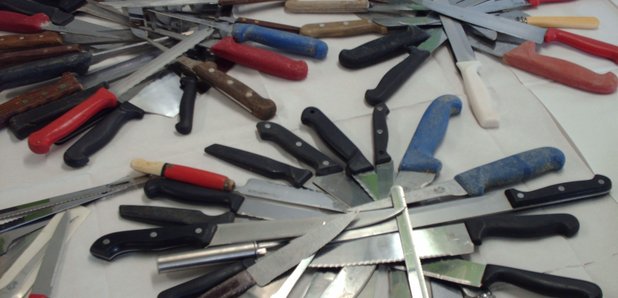 The force is stepping up efforts to tackle the number of knives on our streets.
Operation Sceptre is a countrywide operation which aims to reduce the number of illegal knives in circulation.

From today, up until Monday 24th September, a knife amnesty will begin. People are being encouraged to bring knives, without fear of punishment, to many of the area's police stations where special amnesty disposal bins will be located.
Special bins are also being placed at recycling centres across Conwy and Denbighshire.

Temporary Assistant Chief Constable Neill Anderson said: "Knife crime has devastating consequences – not only on families but also the wider community.

"Although knife crime in North Wales is low, we shouldn't be complacent, which is why we fully support this national campaign, by targeting those who habitually carry and use knives, tackling the supply and access to weapons, engaging with the public to increase awareness of the consequences of carrying knives and provide opportunities to surrender weapons.

"Carrying a knife or a weapon is still a reality for some people, many of whom are unaware of the repercussions. It does not keep you safe and by carrying a knife you are putting yourself and others in much greater danger. If caught with a knife you could face a prison sentence of up to five years – and that is just for possession in a public place. If you cause injury there will be other charges to answer and you could go to prison for longer. It's just not worth the risk.

He added: "This week of activity is part of our ongoing commitment to disrupt criminal activity and take as many knives off the streets as possible. Our three previous campaigns held in February 2018, July 2017 and October 2017 have seen almost 900 knives being surrendered across the region which has undoubtedly contributed to a safer North Wales."

Officers will be liaising with shops across the region and School Community Police Officers will be delivering lessons to primary and secondary school pupils regarding the dangers of knives.

The campaign also has the full support of colleagues from the Welsh Ambulance Service and Betsi Cadwaladr University Health Board – who know all too well about the aftermath of knife-related injuries.