Teesside Teen Raises Money For Cancer Charity
19 December 2013, 14:41 | Updated: 30 March 2016, 13:50
15 year old Georgina Anderson from Marske died four months after being diagnosed with a rare form of cancer - now friends and family are raising money for cancer charities with her song.
The teenager passed away at her home in Marske, where she lived with her mum Helen and dad Paul.

Georgina was diagnosed with stage four liver cancer in July this year after going to the doctors with stomach pains.

She had been complaining of indigestion a couple of days before.

After a scan though, Georgina was told she had an extremely rare and aggressive form of cancer which affects just 18 young people in the UK each year.
The 15 year old was a keen musician, having penned hundreds of songs before she was diagnosed with cancer.

It was Georgina's dream, not to be famous, but to be heard.

The day before she passed away she was told by her parents that one of her cover versions, of Bonnie Raitt's I Can't Make You Love Me (which you can see below) had reached 90,000 views.

It's now had more than 300,000 views.

Now, friends and family of the teenager have released her original song, Two Thirds of a Piece' which she was able to record before she became too poorly to sing.

Money raised from the sales of the single will go to Cancer Research UK and the Teenage Cancer Trust.

Georgina's dad Paul told Capital:
"The only blessing was that in the last few weeks of her life, she actually had a lot of fulfilment and managed to complete a number of her dreams.

The one thing she left with us was the legacy of her music and she said any proceeds that came from it, she would like to go to cancer charities.

She wanted to help other people.

She was very concerned about other people all the way through her cancer diagnosis, and when she finally got the terminal diagnosis, she suddenly realised that cancer research was probably the most important thing.

But she had a nice ending to her life, if that's possible."
Simon Cowell and James Arthur have joined other celebrities, including Ed Sheeran, in tweeting support for her song.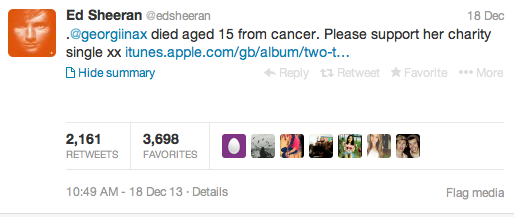 And a campaign group on Facebook to get her song to be the Christmas number one has 14,000 likes.

You can download Georgina's song on iTunes via this link

Hear from Georgina's dad Paul Anderson, as he speaks to Capital FM's reporter Anna Harding
Georgina's cover of Bonnie Rait's 'I Can't Make You Love Me'