Man Found Guilty of Murder of Hartlepool Pensioner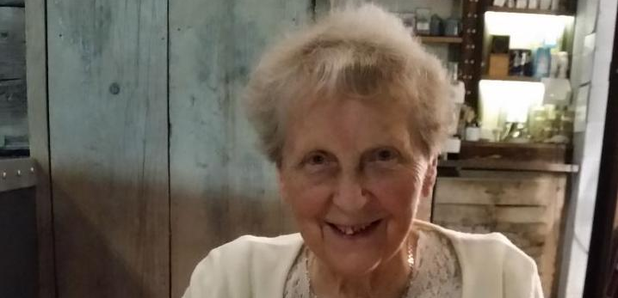 A man's been jailed for at least 33 years for murdering a Hartlepool pensioner, before setting fire to her home to hide the evidence.
Gareth Dack strangled Norma Bell at her Hartlepool home in April last year - a month short of her 80th birthday - and then attempted to blow it up.
The penniless father-of-four used a telephone cable to kill the 79-year-old - whom he had known since childhood - and then rang sex chat lines after she lay dead or dying.
He then stole £700 and a boxed 49-inch TV, which he sold to a friend for £60. He had borrowed £10 from his victim the week before.
He left the premises the next day after starting two fires and leaving the gas on in the kitchen of the home Mrs Bell had lived in for 27 years.
But his attempt to blow up the house failed and his DNA was found on a used match in the kitchen, inside Mrs Bell's handbag and on the cable around her neck.
Her mobile phone was found in the garage of Dack's parents' home further down Westbourne Road.
The victim, described as a woman who had a "heart as big as a lion", had fostered more than 50 children.
Dack was convicted of her murder and arson at Teesside Crown Court on Wednesday following a three-week trial.
The jury heard Dack considered the widow, who lost her husband in 2010, to be a "soft touch".
Trial judge Mrs Justice Whipple told him: "You killed Norma Bell in cold blood in her own home when she was defenceless.
"She had done nothing to deserve your violence, then you set fire to her home in a failed attempt to cover your tracks."
The Bells had three sons and were parents to six long-term foster children.
The court heard statements from some of the children the couple had fostered.
One child described them as "amazing parents", while another said she had been bullied for being fostered, but "mam told me to be proud of who I was and said I was a chosen child, and I should be proud of that and not ashamed".
Her family said in a statement: "Her murder has left an enormous gap in our lives and forgiveness will never be given."

_____________________________________________________________________________________________________________
UPDATED Wednesday 1st February 2017

A man's been found guilty of murdering a Hartlepool pensioner, before setting for to her home to hide the evidence.
The body of 79-year-old Norma Bell was found in her burnt out home on Westbourne Road in Hartlepool in April 2016. A post-mortem examination showed the mother of 9 and foster mum to around 50 children had been strangled with a cable.
Following the murder, 33-year-old father of four Gareth Dack ransacked her home, stole a boxed TV and £700 cash, and repeatedly used her phone to call adult chat lines.
He was convicted of murder and arson following a trial at Teesside Crown Court. He'll be sentenced on Thursday 2nd February.

Cleveland Police have released CCTV of Dack in custody
They've also released a number of photos relating to the case: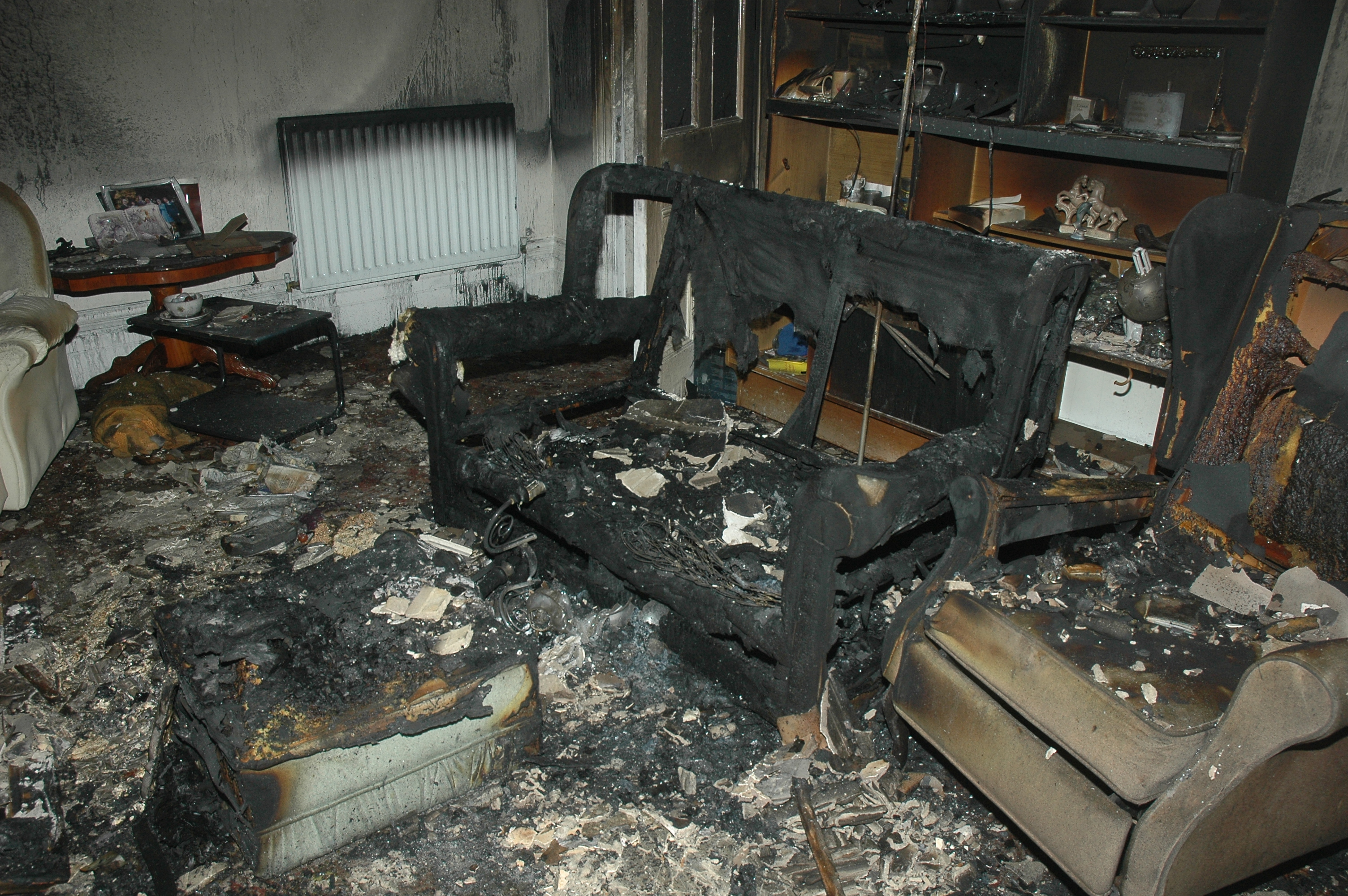 ABOVE: The scene in Norma Bell's living room following the fire, set by Dack


Following the guilty verdict, Norma's family released this statement:
'The events of the 3rd April last year turned our lives upside down and in the following ten months we have endured pain we did not conceive possible.
Norma Bell was our confidant, our friend, our crutch to lean on, our shoulder to cry on and not least she was our mam. Her murder has left an enormous gap in our lives and forgiveness will never be given.
Our mother along with our late father John, dedicated her adult life to fostering, looking after children in need, giving them a home, love and a little hope. She fostered over 50 children, some for short term and some for longer, she raised six of them alongside her own three children to be a permanent part of the family. Our mam had a heart as big as a lion.
After retirement from fostering she was hands on in helping to raise twelve grandchildren. She would tease them as to who would be the first to give her a great grandchild. This is something she dearly looked forward to yet this is something she will now never get to see.
Gareth Dack brutally murdered our mother in the place she should have been safest and then burnt out the family home, destroying everything she had for a few quid to feed his drug habit and his actions have left us all in pieces.
We would like to take this opportunity to thank our family and friends for helping to keep those pieces together.
We would also like to thank everyone involved with the aftermath of this horrific event, from the fire brigade and paramedics who first attended the scene, the forensics and police who gathered all the evidence, the prosecution team, the judge, the jury and the police liaison officers who have had to put up with our constant badgering for answers.
We would also like to thank you, the press, for respecting our privacy throughout and ask that you continue doing so and let us privately try to put our lives back together.'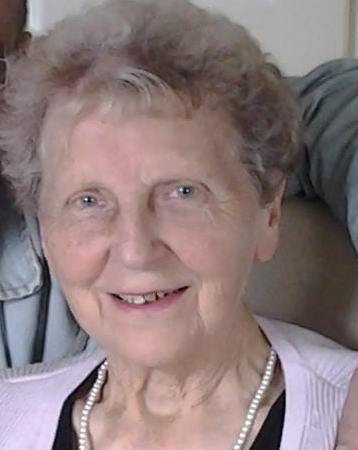 ABOVE: Norma Bell






Chief Superintendent Alastair Simpson said:
"On Sunday 3rd April 2016, police launched a murder investigation following the discovery that Norma Bell had been strangled and her house had been set on fire in a callous attack.
Norma would have celebrated her 80th birthday the following month and had lived in her home on Westbourne Road for 27 years. Norma was a mother to nine children. Her family describe her as a "loving and caring woman who was full of life. Gareth Dack preyed on Norma's caring nature and murdered her for his personal gain before trying to cover his tracks by setting fire to her home.

I'd like to acknowledge the bravery of Norma's family throughout this trial and thank them for their cooperation during the investigation. I'd also like to thank the witnesses that came forward with information that led us to the recovery of important evidence, such as the recovery of Norma's stolen television.
Finally, I'd like to thank the investigation team, including colleagues from around the country, who worked tirelessly to bring Gareth Dack to justice as well as the Crown Prosecution Service and prosecuting counsel for support throughout.

During the criminal justice process Gareth Dack refused to take any responsibility for his actions. Thankfully, he will now be held to account for his crime. Nothing will bring Norma back to her family, however, I hope that his conviction brings some form of comfort to them."