Major Metro Line Closures Start
5 August 2013, 07:48 | Updated: 30 March 2016, 13:50
A major section of the Tyne and Wear Metro system will be closed for 27 days throughout August for modernisation work.
Nexus, which owns and manages Metro, is carrying out a multi-million pound modernisation scheme - the biggest since Metro was built in the late 1970s.

This will mean that the line between Haymarket, Airport and Four Lane Ends will be closed for 27 days from August 4th to 30th.

This will have an impact on Metro services throughout the Metro system and passengers are advised to plan journeys in advance.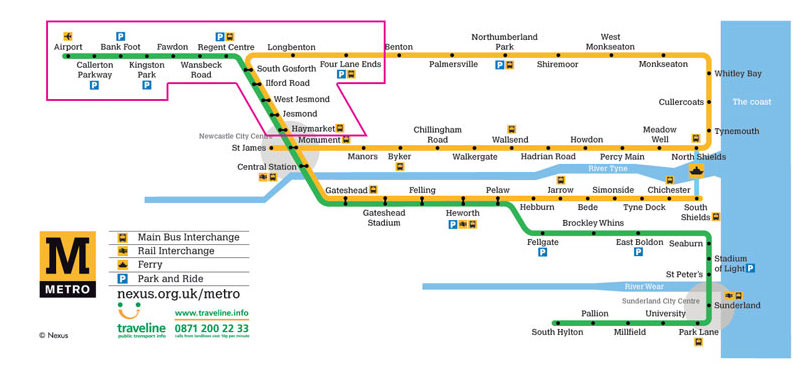 The major line closure is part of the £385m "Metro: all change" modernisation programme - a once in a generation investment to ensure the region has a reliable Metro system for many decades to come.

DB Regio Tyne and Wear, which operates the Metro on behalf of Nexus, is drafting in a fleet of buses to provide the replacement services to minimise disruption to passengers.

There will also be a fast and frequent express bus service from Newcastle's Central Station to the Airport.

The Express Airport service (X901) will leave from opposite Central Station, in Bewick Street, every ten minutes at peak times, and every 20 minutes at other times, with a pick up at St James' Park.

The return service will leave from outside the front of Newcastle International Airport.

Staff will be on hand to direct people to the bus stops.

Bus service 900 will run between Haymarket and Four Lane Ends and service 901 will run between Haymarket and Airport calling at all Metro stations on the route.

Local bus routes will not be accepting Metro tickets so passengers need to use the replacement bus services that are being provided.

There will be extra trains between Four Lane Ends and St James via Whitley Bay to provide people living in North Tyneside with an alternative route to Newcastle city centre.

Trains will also run to/from Longbenton during peak service. Extra Metro staff will be on hand at the following stations to direct passengers to the bus replacement services during the line closure:
* Airport
* Central Station
* Haymarket
* Four Lane Ends
* Longbenton (during peak times)
* Regent Centre
* South Gosforth.

Although the replacement bus services along the closed section of line will be running at frequent intervals, passengers travelling in the affected areas are advised to allow extra time to make their journey.

Full information, including timetables, can be on the Nexus website and on the Metro Facebook