Durham Gymnast Amy Tinkler Wins Bronze In Rio
17 August 2016, 08:59 | Updated: 17 August 2016, 09:09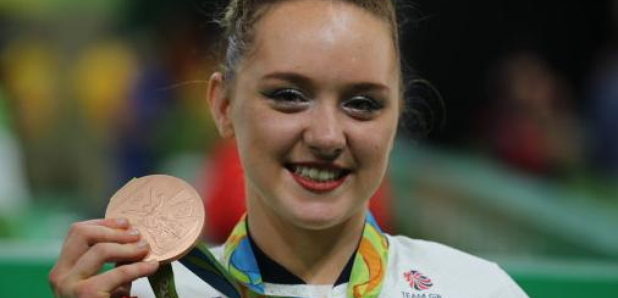 Team GB's youngest athlete Amy Tinkler, who made history as the team's first floor gymnast to win a medal, is now hoping for success in her GCSEs next week.
Tinkler, 16, from Bishop Auckland, bagged bronze with a score of 14.933 with an almost flawless routine on Tuesday evening.
Breaking down in tears as the final results were announced, she said:
``I knew I'd done the best routine I could and whatever the result would have been happy."
``I just love competing in front of big crowds, it's just incredible, I'm just so shocked.''
Asked about when she will receive her GCSE results, she joked:
``I get them the day I get home from Rio so I've got that look forward to now.''
While an Olympic Games debut might seem daunting for many teenagers, Tinkler said:
``I just love competing. My coaches said I had nothing to lose so to just go out there and enjoy it, so that's what I did.''
The crowds clapped along to the upbeat music as she made a clean start to her routine. As she finished, commentators described her as a ``very powerful'' and ``expressive'' gymnast who ``wowed the crowd more than anyone else''.
Moments after her victory was sealed, Kelly Milnes, senior coach at South Durham Gymnastics Club - where Tinkler has trained since she was just two years old - said:
``I am absolutely over the moon - we've all been in the gym this evening watching her."
``We are overwhelmed, excited, emotional - everything. Her routine was absolutely flawless, the best she has ever done it.''
Although Tinkler recently took a short break from competitions to focus on her school work, it clearly did not hinder her sporting prowess in the slightest and Ms Milnes said that, on average, the teenager spends about 31 hours every week training.
Kelly said:
``Amy loves what she does and that is a special quality in her."
``GB has never had a floor finalist before so just to qualify was so unexpected, but this is unbelievable."
``Amy really is an inspiration to every single person at this gym and we will no doubt be throwing a homecoming party for her when she returns.''
Tinkler already made a name for herself last year as senior English and British all-around champion after winning gold at the 2015 British Championships - a feat which she repeated this year.
Although particularly skilled on the floor, she is known for being an impressive all-round gymnast who can keep a cool head in competition. Those skills enabled her to help Team GB win bronze at the 2015 World Championships in Glasgow.