Brave Sunderland Mascot, Bradley Lowery Dies From Cancer
7 July 2017, 16:07 | Updated: 7 July 2017, 19:21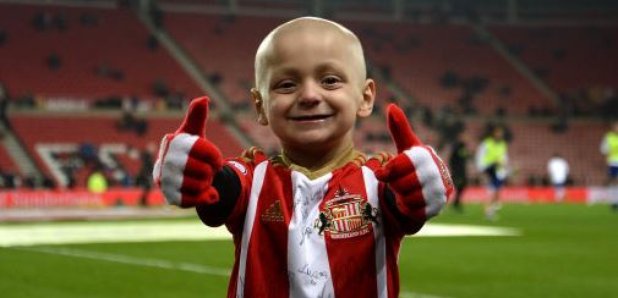 Bradley Lowery, the six-year-old Sunderland fan who captured hearts across the North East and the country, has died.
The news was confirmed this afternoon by his family, who say:
'My brave boy went with the angels today 07/07/17 at 13:35, in mammy and daddies arms surrounded by his family.
He was our little superhero and put the biggest fight up but he was needed else where.
There are no words to describe how heart broken we are.
Thank you everyone for all your support and kind words.
Sleep tight baby boy and fly high with them angels.'
The boy from Blackhall Colliery, County Durham was first diagnosed with neuroblastoma, a rare form of cancer, at 18-months-old.
It's a kind of solid tumour which predominantly affects young children.
Despite being given a 50/50 chance of survival, and needing resuscitation on several occasions, he went into remission after two years.
But in July 2016, his family were told his cancer had returned.
His family launched a campaign to raise £700,000 to get him ground-breaking treatment in the US, and though they passed that target, the trip to America never came to pass.
In December 2016, his family were given the news his cancer was terminal.
The devastating news came around the same time that as a campaign to get Bradley as many Christmas cards as possible. In the end, he was sent more than a quarter of a million.
Making Memories
Football fans in the North East were among the first to rally behind Bradley's cause.
The young Sunderland fan's story attracted the donations from thousands of supporters – and even inspired one Newcastle supporter to get the Black Cats' crest tattooed on his leg in exchange for £1000 in sponsorship.
And as his illness progress, his family said their focus would be on making memories in the time they had left with him.
He was invited to be a mascot for his beloved Black Cats on several occasions – and through this, he developed a close friendship with striker, Jermain Defoe.
Speaking about Bradley before his death, Defoe said:
"It's difficult to find words on how I felt, that day when he came into the changing rooms. He came in and he was screaming my name. It's hard to find words to describe how I felt. It was way beyond football."
"He's a special young boy, and I mean that from the bottom of my heart. I remember [meeting him] before the Everton game. For someone going through all that he's going through, his energy was amazing."
Bradley's story soon became one known to people across the country.
In January – Bradley even won Match of the Day's 'Goal of the Month' competition – after a penalty kick against Chelsea's goalkeeper before a game at the Stadium of Light.
And in March – he led England onto the pitch – holding hands with his hero, Jermain Defoe.
He went on to attend the Grand National at Aintree – and was given an honorary 41st jockey title for the day.
Pride of the North East
In May, Bradley was presented with the Child of Courage prize, at the inaugural Pride of the North East awards.
A day later, he celebrated his sixth birthday with a party attended by Jermain Defoe, in his home village of Blackhall Colliery.
Days later, Bradley's health went into decline. His family revealed his tumours had spread and he was undergoing palliative care at home.
But Bradley's story has set in motion a legacy, to help other children battling similar diseases.
Money raised for his treatment will go towards the Bradley Lowery Foundation.
It's still in the process of being set up, but his family say as a result of the generosity of everyone who donated to his cause, they'll be able to help a lot of people.