Who's Watching The Football? Pop Stars Tweet The World Cup
13 June 2014, 16:28 | Updated: 4 December 2017, 11:10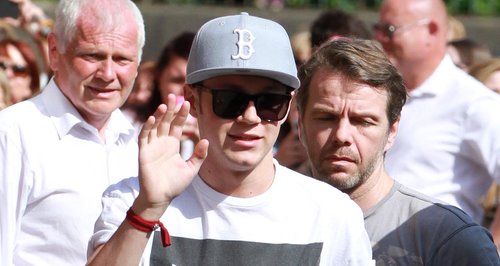 As the World Cup 2014 kicks off in Brazil, Capital presents the stars who just CANNOT get enough of the football madness that's taking over the world this month.
The World Cup 2014 is officially underway after an opening ceremony last night (12th June) which saw Jennifer Lopez and Pitbull bringing their Brazil 2014 anthem 'Ole Ola' to life and the first football match taking place.
Expect your favourite pop stars and actors to stop tweeting and talking about their next album, their latest project or their new look and instead go football CRAZY by posting updates about their excitement, frustration or joy at how THEIR football team does.
Find out which stars of today are going to be hooked on the #WorldCup2014 for the next four weeks...
No surprises here... football super-fan Niall Horan was watching along to last night's opening game!
First game of the World Cup tonight ! Can't wait ! PRA CIMA MAJOOOOORR ! CMON BRAZIIIILLLLL !

— Niall Horan (@NiallOfficial) June 12, 2014
Sounds like Joe Jonas is planning to watch EVERY game at this year's event... all while writing new songs of course
#worldcupbegins #goodbyelife http://t.co/aNyaG5Kw2Q

— joe jonas (@joejonas) June 12, 2014
The hunky singer even shared a snap of him embracing the Brazil opening ceremony with one of their flags! #WorldCup2014
If you ever find yourself sat next to Kick-Ass star Chloe Grace Moretz during a World Cup game then be warned... this lady is NOT one to be messed with!
Go @CBF_FUTEBOL! #WorldCup Who are you supporting? https://t.co/IxYa67gZJi

— Chloë Grace Moretz (@ChloeGMoretz) June 12, 2014
Jessie proves she's a multi-tasking GENIUS by cooking up a gourmet dinner AND watching the first World Cup game! #Skillz
Mr. Worldwide couldn't help but tweet his excitement for the HUGE launch night! He was performing after all...
Match Day obrigado Brasil pic.twitter.com/hsbxCczHmr

— Pitbull (@pitbull) June 12, 2014
Of course J-Lo was getting into the festival spirit out in Brazil ready for her HUGE opening performance.. and the BIG game!
Niall's not alone in his excitement for World Cup season... seems his bandmate Louis Tomlinson will be locked into the England game this weekend
Ahhhhh can't wait for Saturday ! Come on England !!!!

— Louis Tomlinson (@Louis_Tomlinson) June 12, 2014
You may also like: