Will Smith's Set To Play The Genie In The New Aladdin Film & We're So Excited About It
20 April 2017, 16:10 | Updated: 4 December 2017, 11:10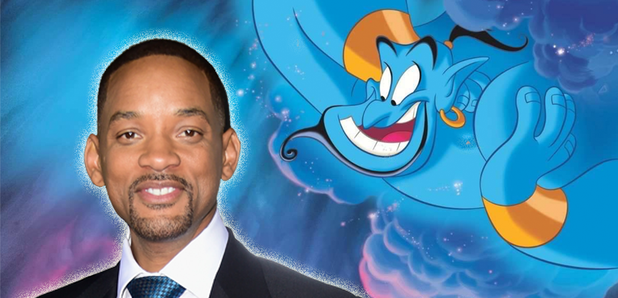 Is the Genie about to get a Fresh Prince makeover?
When we think of Aladdin, the Genie is arguably going to be most peoples favourite character. His funny one-liners and brilliant songs made him one of Disney's most famous characters ever.
Of course, the late Robin Williams played the Genie in the original 1992 animated tale of Aladdin, but with the live action re-boot currently being cast, Will Smith appears to be in pole position to take on the challenge.
Will Smith reportedly turned down the chance to play one of the characters in the upcoming rework of Dumbo and he if does take up the reigns and become the Genie, we are going to be SO EXCITED about it.
Whilst we don't think anyone can match the incredible performance of Robin Williams, we're sure Will Smith would put his own spin on the role to create a hugely memorable Genie. So here's exactly why we think he'll be great...
He's A Funny Guy
Will Smith absolutely smashed it in his role on the Fresh Prince Of Bel Air and in the years since then he's played a number of other characters who have made us lol. Men In Black was a classic, as was Hitch, so we know Will would certainly crack us up.
GIF via GIPHY
He Often Gives Us All The Feels
In films like I Am Legend and Seven Pounds, Will Smith actually made us cry. Yep, legit tears of sadness. With the emotional journey that the Genie takes during Aladdin, we've got a feeling Snith will totally nail it.
GIF via GIPHY
He Can Play A Great Friend
Not that we're real life BFFs with Mr Smith (although we wish!), in many of his films he's shown that he can be a shoulder to cry on as well as a good laugh. His relationship with Aladdin is a main part of the storyline and when he gets set free at the end...well you know what we mean.
GIF via GIPHY
So basically, we just want Will Smith to confirm that he's gonna play the Genie so we can get on with our lives.
Please and thank you.
You may also like...