'Fortnite' Is The Real Reason Your Boyfriend's Ignoring You
15 March 2018, 15:42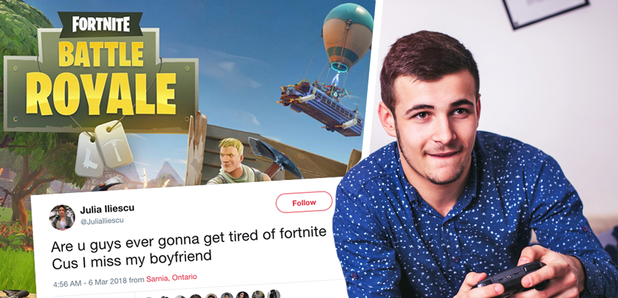 The online game has become one of the biggest success stories in recent years and many of us are totally obsessed with it's infectiously captivating gameplay. Soz bae!
Gaming is one of those things that can easily become an obsession. You can be playing a quick match of FIFA 18 against your mate online and then suddenly five hours later you realise you've missed 72 calls from bae and that pizza you were cooking is now a pile of cremated dust.
Well the newest game that's taking over streaming services everywhere is 'Fortnite'. Whilst it might be fun for some, it's ruining relationships elsewhere, so we thought we'd fill you in on exactly what the heck it's all about and why Drake is all over it...
> Create An 8 Song Playlist & We'll Tell You If You'll Ever Get Married

What Is 'Fortnite'?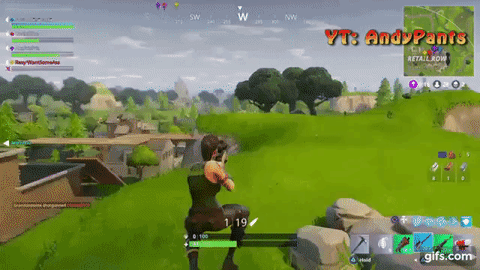 (GIF: Giphy)
'Fortnite' is an online multiplayer survival game that sees players team up to try and defend objectives by building fortifications around them whilst also killing creatures who show up to attack them.
There is also a Battle Royale mode which sees players fighting against each other in a battle to the death. You can get up to 100 players in one game and either go it alone or be part of a four-person team. Thinking about downloading it yet?
Where Can I Play 'Fortnite'?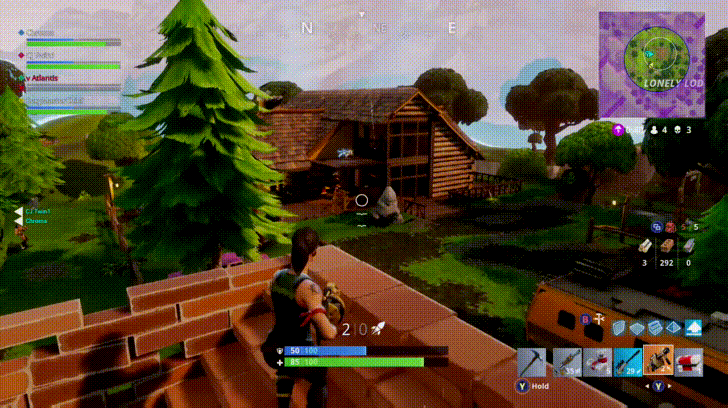 (GIF: Giphy)
You can purchase 'Fortnite' on Playstation 4, Xbox One, PC and Mac, whilst you'll also need an internet connection to join other players in the game. You need Xbox Live Gold to play Battle Royale online but you don't need PS Plus. 'Fortnite' is availble to play on PC, however it's not available on Steam.
You can play cross-platform too, so you don't have to worry if you and your mates don't have the same console!
The standard 'Fortnite' game retails at around £34.99 in the UK, whilst the Battle Royal stand-alone version is free.
Does Drake Play 'Fortnite'?
Yes.
playing fort nite with @ninja https://t.co/OSFbgcfzaZ

— Drizzy (@Drake) March 15, 2018
Drake recently joined popular gamer and 'Fortnite' player Tyler 'Ninja' Blevins on a live stream and sent the internet into meltdown. Everyone was talking about it and it actually set a new record number of concurrent viewers watching on Twitch at over 635,000 (previously 388,000).
girl: come over no ones home

me: I can't I'm watching ninja play fortnite with drake

— Edwin Burgos (@edtertaining) March 15, 2018
if every game site tomorrow isn't drowning in drake memes so help me god

— Julie is Going To GDC (@juliemuncy23) March 15, 2018
YOOOOOOOOOOOOOOOOOOOOOO THIS IS HISTORYYYYYYYYYYY pic.twitter.com/P4e3gmGltu

— Kofie (@KofieYeboah) March 15, 2018
Kylie Jenner's boyfriend and rapper Travis Scott then joined the stream alongside NFL player Ju-Ju Smith-Schuster and they all joined forces to create a super squad, whilst proceeding to break the internet.
Travis Scott has joined the Squad while @drake is looking at memes of himself @Ninja just RT'd...

What a time to be alive. 2018 is beyond incredible. pic.twitter.com/sG0c7KYJZ8

— Barstool Gametime (@StoolGametime) March 15, 2018
Are People Losing Their Boyfriends To 'Fortnite'?
They sure are and it's becoming a problem!
Maybe we should start getting into it too? Could be fun...
RIP to my boyfriend, he didn't died. I just lost him to fortnite

— K (@lnd_karen) March 11, 2018
Every girl when they think their boyfriend is going to stop playing fortnite at 2 am then hear the battle bus ship out pic.twitter.com/bqZwlNZdRB

— Darla-Nicole Acosta (@Darla_Nicole1) March 9, 2018
Fortnite is like that girl your boyfriend was friends with before you started dating and never stopped being close with him, and at first u didn't wanna be crazy and have him cut her off but now she's getting too close calling him honey texting him at peculiar hours of the night

— (@hanbocaj) March 13, 2018
Is your boyfriend really your boyfriend if he isn't sitting on fortnite for hours whilst you're waiting for attention??

— tamara (@tamararosej) March 13, 2018
So if your boyfriend is giving you the cold shoulder or ignoring your whatsapp messages, we might finally know who to blame!

> If You Want Something To Do Other Than Play 'Fortnite', Download Our Free App!
Because we couldn't think of anything else game related, here's the video for Taylor Swift's 'End Game'...