The Mystery Of The Colour Changing Dress Has Been Solved!
28 February 2015, 14:47 | Updated: 4 December 2017, 11:10
What Colour Is This Dress? (SOLVED with SCIENCE)
02:09
It's the dress that has LITERALLY divided the world - some see it as black and blue, while others swear it's white and gold. Everyone from Kanye to Ariana are SUPER confused!
Who'd have thought one dress could be so divisive? The internet basically imploded when the question of what colour this frock was caused mass uproar - some people swear they see it as blue and black, while others see white and gold. (The general consensus in the Capital office is white and gold, FYI).
Check out the video above for the science behind 2015's BIGGEST talking point so far, and vote in our poll to let us know what colour you're seeing.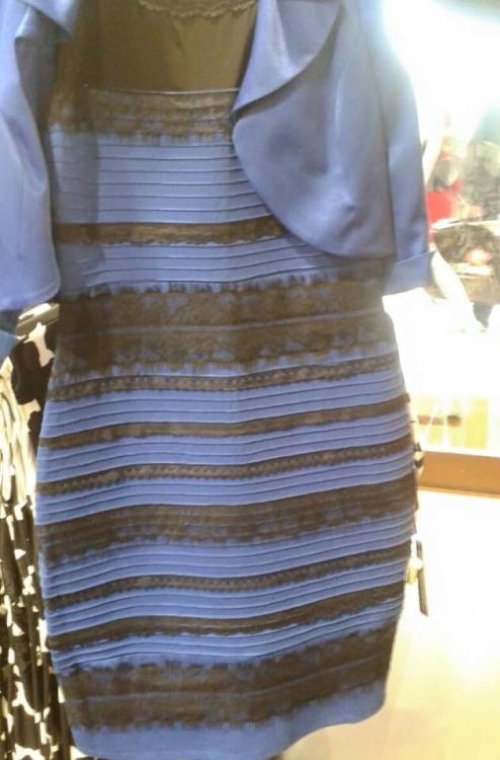 Even the celebs are as baffled as we are about how people can see the colours so differently:
Justin is in team blue/black:
And for everyone asking I see blue and black

— Justin Bieber (@justinbieber) February 27, 2015
The whole thing is getting too much for Taylor Swift:
I don't understand this odd dress debate and I feel like it's a trick somehow. I'm confused and scared. PS it's OBVIOUSLY BLUE AND BLACK

— Taylor Swift (@taylorswift13) February 27, 2015
Ariana Grande is just sick of the whole debate:
if one more person asks me what color i think this damn dress is

— Ariana Grande (@ArianaGrande) February 27, 2015
Miley Cyrus is seeing all kinds of colours:
Kim K
What color is that dress? I see white & gold. Kanye sees black & blue, who is color blind?

— Kim Kardashian West (@KimKardashian) February 27, 2015
Demi Lovato is confused that people don;t all see it as black and blue:
Hold on.... So people actually see white and gold....??!!

— Demi Lovato (@ddlovato) February 27, 2015
Lady Gaga had an interesting take on it:
@thecolorated its periwinkle and sand

— Lady Gaga (@ladygaga) February 27, 2015
Jaden Smith sees it… as of now:
I'm Seeing Blue And Black, As Of Now

— Jaden Smith (@officialjaden) February 27, 2015
Apparently the science-y types think it has to do with your emotional state, and that people who see white and gold are in a cheerier place than those who see black and blue. Who knew?
What do you see the dress as? Let us know in our poll:
You may also like...