12 Songs GUARANTEED To Make You Happy…That Aren't 'Happy' By Pharrell
5 July 2015, 22:33 | Updated: 6 December 2018, 17:13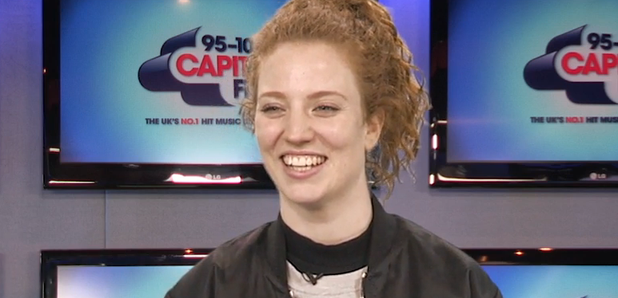 It's British summertime, which can only mean one thing - 5 minutes of sunshine followed by endless rain. No matter what the weather's like, these tunes are GUARANTEED to put a smile on your face!
We all know that Pharrell's perennially positive track 'Happy' is a surefire track to cheer you up, but just incase you want a playlist that's bigger than one track, we've compiled some of the 12 smile-inducing hits around.
Little Mix – 'Black Magic'
Possibly the best British pop girl-group since Girls Aloud, Jesy, Perrie, Jade & Leigh-Anne's latest hit is DEFINITELY one of their best. This future pop classic is sure to have you smiling as you strut down the street to catch your bus to work.
> EXCLUSIVE: Want to learn the 'Black Magic' dance? The Little Mix girls show you how!
David Guetta & Nicki Minaj – 'Hey Mama'
When one of the world's BIGGEST DJs teams up with a total RnB diva, you know there's gonna be pure magic. 'Hey Mama' is possibly our favourite track from Guetta's latest album, 'Listen', and is quickly becoming the dance-floor filler of summer 2015!
Nathan Sykes – 'Kiss Me Quick'
The freshest face on the UK pop scene, Nathan's debut solo single is a firm favourite in the Capital office and we're SO happy that it's finally out for download! We can't wait to see what other anthemic tracks Nathan will deliver during his solo career.
Katy Perry – 'California Gurls'
Not only is the song guaranteed to put a smile on your face, this is one video that just oozes pure happiness! Katy Perry's 2010 hit, featuring Snoop Dogg, has been working its magic on our mood for years and sounds just as fresh as the day it was released.
Jess Glynne – 'Hold My Hand'
Jess Glynne is quickly becoming the BIGGEST British artist of the year! From her smash hits with Clean Bandit and Route 94, to her solo success with 'Right Here' and her latest Big Top 40 chart-topper with Tinie Tempah, Jess' latest solo hit is sure to make you smile - especially if you're with your bae!
> From Jess Glynne to Sam Smith: 16 Reasons 2015 is the year of British talent
Walk The Moon – 'Shut Up And Dance'
Another track which totally took us by surprise this year - the American indie-rock band smashed the Big Top 40 chart earlier this summer with a track that is guaranteed to cheer you up, no matter how gloomy that British weather is!
Taylor Swift – 'Shake It Off'
We couldn't make a playlist about happy songs without including TayTay! 'Shake It Off' is the PERFECT track to bring a smile to your face, from the catchy hook, up-beat lyrics and a wicked "don't care" dance routing.
> POP BFFs! 24 Reasons We LOVE The Friendship Between Ed Sheeran & Taylor Swift
Dillon Francis & DJ Snake – 'Get Low'
It's not just about the pop this summer, Dillon Francis & DJ Snake's 'Get Low' will not only cheer you up, we're sure people around you will have a smile on their face when you start twerking down the aisles of the supermarket. Whether they're laughing AT you or WITH you, we can't be certain...
> Summer songs 2015: 18 Holiday anthems guaranteed to pimp up your holiday playlist
Mark Ronson feat. Bruno Mars – 'Uptown Funk'
What sort of motivational list would this be without the BIGGEST track from the past year? Mark & Bruno's chart-SMASHER is even BETTER when you've nailed the dance routine with your BFF - just give it a go!
Swedish House Mafia feat. Tinie Tempah – 'Miami 2 Ibiza'
Even if you can't get away this summer, just shut your eyes and let Tinie and the Swedish supergroup of Alesso, Axwell & Steve Angello take you away. Before you know it, even your local carpark could be a sandy white beach!
Rihanna feat. Calvin Harris – 'We Found Love'
Oh RiRi, you NEVER fail to cheer us up! There are so many Rihanna classics we could have chosen for this playlist, but when you can GUARANTEE that there'll be a "oo-a oo-a" from the ENTIRE club when this comes on, it HAD to be 'We Found Love'!
Fifth Harmony – 'Worth It'
Another bunch of fresh faces on our list, but after their Summertime Ball performance we couldn't NOT include these ladies! The American quintet will not only boost your self-esteem with their empowering lyrics, but will no doubt have you down on that dance floor ASAP!
> Not a #Harmonizer? Get to know Fifth Harmony right now!