Stranger Things' Hopper Hijacked A Student's Yearbook Pics
15 January 2018, 15:03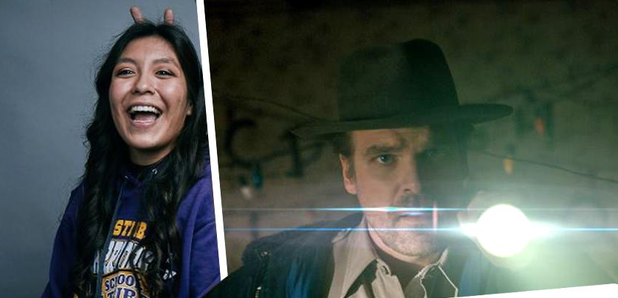 This wins 2018.
Ever since we binge-watched the second series of 'Stranger Things' in, like, a day, there's been an Eleven-shaped hole in our hearts. Sigh.
That's when one student, Damaris, took it upon herself to make the world right again...
> These Two VERY Subtle Hints Might Mean Millie Bobby Brown And Jacob Sartorius Have Something Going On
Tweeting David Harbour, who's known for playing Chief Hopper on the Netflix Original Series, she wrote "how many retweets for you take my senior photos with me [sic]".
you all made this happen! and sorry david that my only words for like 5 seconds were "hi" pic.twitter.com/4WMt35P8h4

— damaris ◟̽◞̽ (@postydamaris) January 14, 2018
We've all seen this a thousand times before; we're still jealous of the bloke who's got a lifetime supply of chicken nuggets from doing this, but we didn't expect David to follow through.
After getting the necessary 25,000 RTs, he legit rocked up. What. A. G.
> Rather Than Scrolling Through Insta Jealous Of These Pictures, Why Not Check Out Our App Instead?
NOTE: No matter how glam or cute you look, your school photos won't be as good as ones with a trombone-playing, cheerleading, bunny-ears-throwing Hopper.
You reckon you're a real fan, Damaris? Then take on our 'Stranger Things' quiz... Against the cast of 'Stranger Things'!